RUSSIA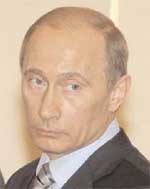 Putin: He may find it hard to play second fiddle.
With relations between Russia and the West at post-Cold War lows, US president George Bush met with Russian president Vladimir Putin in early April in Sochi, Russia, for their last tête-à-tête as world leaders. The most critical issue on the agenda, finding common ground on a planned European missile shield, was, unsurprisingly, not resolved.
Putin has had more success in holding onto power as his presidency winds down. In mid-April, just three weeks before the swearing in of Dmitry Medvedev as the new president of Russia, Putin was offered formal membership—and leadership—of party of power United Russia. The biggest question among Kremlin watchers is whether Putin, who will in all likelihood be named prime minister in the Medvedev government, will be content with playing second fiddle to his protégé.
In a sign of the rude health of the Russian economy, the Russian finance ministry said the country would in June repay around $3 billion of its $4.5 billion outstanding debt to the World Bank. In another indication of Russia's growing economic power, Russian steel maker Severstal agreed to buy a facility in the US state of Maryland from ArcelorMittal for $810 million. With the acquisition, Severstal becomes one of the five largest steel producers in the United States.
In the largest private equity deal ever in Russia, US leveraged buyout giant TPG announced that it is buying half of SIA International, the largest pharmaceutical distributor in Russia, for $800 million. In a reflection of both the current difficulties involved in tapping the debt market and the anticipation of strong underlying growth in its purchase, TPG paid cash for the stake, rather than funding the deal through borrowing.
Another US giant, Wal-Mart, revealed it was in the process of exploring possible expansion into Russia. The arrival of the world's largest retailer—likely still some time away—would mark an important milestone in the evolution of the Russian investment environment.
Kim Iskyan