Russia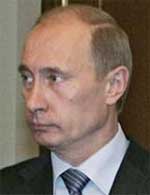 Putin: Maintains a tight grip on Russian politics.
After months of uncertainty, the Russian political landscape began to take shape in December. After being anointed by president Vladimir Putin as his successor early in the month, Dmitry Medvedev was named the official nominee of the party of power, United Russia. Medvedev, who has long been part of Putin's inner circle, returned the favor by asking Putin to be his prime minister. Medvedev is all but guaranteed a victory in the March 2008 elections, in light of the enduring extremely high levels of popularity enjoyed by Putin and the blanket positive media coverage of Medvedev provided by state-controlled television (see story, page 43).
If he does become premier, Medvedev will face challenges as soon as he takes office. Inflation in Russia clocked in at 12% in 2007, well above the 9% posted in 2006 and the 8% government target. Rising food prices, budget spending and capital inflow were the key culprits. A price freeze on staple food items and reduction in some import duties, implemented in October, did little to stem the rise. The government is targeting an inflation rate of 8.5%-9% for 2008, but most economists are projecting a significantly higher figure.
In late December French automaker PSA Peugeot Citroën became the latest international automaker to announce plans to build a plant in Russia. The announcement came weeks after Renault said it would take a stake in AvtoVaz, Russia's largest car maker, beating out General Motors, which had only days before been reported to be close to sealing a deal with the Russian company. AvtoVaz has been losing market share to foreign competitors but was still able to boost production by 6% in 2007.
In its latest foray into other markets, in early January gas giant Gazprom said it may develop deposits and pipelines in Nigeria, as the country seeks to upgrade its underperforming gas industry.
Georgian president Mikheil Saakashvili won a second term as president of the embattled republic. The election, which international observers characterized as meeting most democratic standards, was called after Saakashvili declared a state of emergency and shut down opposition media in the wake of opposition protests in November.