China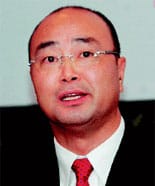 Its been a rocky month for China. In Singapore, a court gave China Aviation Oil (CAO) six weeks to formulate a rescue plan after it came to light that the company had suffered losses of $550 million in speculative oil futures trades. CAO, the Singapore-listed subsidiary of mainland Chinas monopoly supplier of aviation fuel, concealed its mounting losses for more than a year. The company has also admitted that it sold more than $100 million of equity to outside investors to cover margin calls without telling investors that anything was amiss. The trading scandal has renewed doubts over standards of corporate governance in China at a time when more mainland companies are seeking international listings.
Doubts have also surfaced over plans for the IPO of the worlds biggest real estate investment trust, Hong Kong-based Link REIT. The IPO was delayed following a legal challenge filed by an elderly tenant in one of the buildings owned by Link REIT. The IPO, which was heavily over-subscribed, will not now take place until legal issues have been resolved.
Chinas textile industry also faces upheaval after the country imposed duties on its textile and clothing exports in an attempt to head off protectionist measures from countries whose own producers may be threatened by the expiry of the Multifiber Agreement, an international quota system that has shaped the world trade in textiles for the past 30 years. The newly liberalized sector is likely to become a Chinese-dominated industry in coming years.
And in an attempt to reign in pro-independence forces in Taiwan, Chinese legislators have announced plans to pass anti-secession legislation. Beijings move is widely seen as a reaction to the plans of Taiwans President Chen Shui-bian to hold a referendum aimed at paving the way to a formal declaration of independence.

Fraser Richardson