BRAZIL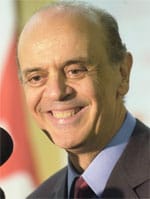 Jos Serra: Heading for victory?

After a strong economic recovery that produced 4.9% GDP growth in 2004, Brazils economy is slowing down. With the presidential election looming in October and President Luiz Incio Lula da Silva facing challenges on both political and policy fronts, analysts fear the president may be tempted to relax his tough fiscal and monetary stance to spark growth and win reelection.
His economic policies have been blamed for the 1.2% decline in the third quarter of 2005s industrial output, and ongoing political scandals continue to erode consumer confidence. A poll by Instituto Sensus gave Lula a 46.7% popularity rating in mid-November, down from 50% the previous month. The poll shows So Paulo mayor Jos Serra, who lost the presidential election to Lula in 2002, may have taken the lead in the 2006 race.
The situation is likely to set off a policy debate as to what measures must be taken to refuel growth. So far, critics contend the administration has done little more than cut interest rateswhich, at 18%, remain among the worlds highest. The overnight Selic rate is expected to fall to 16% by end-2006, providing some relief. The weight of recent evidence paints a clearly disturbing picture of Brazils economy, wrote Christian Stracke, senior analyst, emerging markets strategy, at CreditSights, in a report published in late November. The manufacturing sector is in a slump, businesses have turned negative, the consumer has begun to pull back, real wages are falling, and exportsthe crown jewel of the Lula economyhave begun to show signs of strain. The downturn exposes Brazils chronic inability to grow at rates on par with other countries.
While worrisome economic data will be a factor in whether or not Lula gains a second term, voters will be particularly concerned about falling wages and mounting unemployment. Employment indicators are likely to further erode Lulas standing in the polls, says Stracke.