India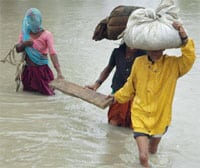 Battling the monsoons in India

Indias state governments have begun to push hard for foreign investments. Among them is the reclusive state of Kerala, which has suffered from the fact that investors have been wary of its elected communist state government. Now, however, it is aggressively pursuing foreign investments: An investment from BMW to set up an automobile assembly plant is high on its agenda.
Taking a different approach is the state of Maharashtra, which is already one of the most industrialized in India. It is pinning its development hopes on becoming a biotechnology and software hub for Asia and globally. A delegation of senior bureaucrats led by the chief minister, Vilasrao Deshmukh, toured major companies in the US recently to press for more investments in these sectors.
Maharastras move is all the more timely, given that Enrons controversial and partly completed gas-fired 2400-megawatt power project in Dabhol, Maharashtra state, has been lying defunct since that company collapsed. Now, GE Energy and Bechtel, which own 85% of the Dabhol Power Company, are hoping to work with Bharat Heavy Electricals and power generator National Thermal Power Corporation to restart the $2.9 billion project. The Gas Authority of India, Maharashtra State Electricity Board and Indian financial institutions are creating a special-purpose vehicle to run the plant after completion.
And while Indias economy has been on a tear recently, meteorologists are predicting a delay in the arrival of the monsoonsomething that typically causes a drop in Indias GDP growth. Despite the delay, though, the stock markets reflect growing optimism. In late June the Bombay Sensitive Index passed the 7,000 mark for the first time ever, on the back of strong liquidity flows. Indian corporate results in the past few quarters have been spectacular and are keeping up investor interest.

Aaron Chaze