China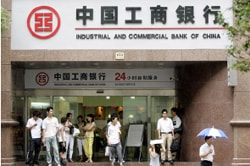 ICBC: Preparing for its IPO

State-owned Bank of China (BOC) has yet to set a date for its initial public offering as it reportedly debates a possible dual listing in the Hong Kong and the domestic A-share markets. The eagerly anticipated IPO was originally planned for Hong Kong in the first quarter of 2006. Concerns over Chinas struggling domestic stock markets, however, have strengthened calls for Chinese companies to list on domestic as well as foreign stock markets. Chinas other IPO hopefuls are adjusting their strategies as they try to avoid listing at the same time as BOC or the Industrial and Commercial Bank of China (ICBC), Chinas largest state-owned bank, which will probably list late this year.
While foreign investors are salivating over the profits they hope to make on such deals, many in China itself will find little reason to cheer when the banks hit the market. A State Development and Reform Commission (SDRC) report cited by state-controlled Xinhua news agency reveals that Chinas urban income gap has reached an unreasonable and alarming level. The report says the lowest-paid 20% of urban workers garnered only 2.75% of the countrys total urban income, or just one 20th of the amount paid to the countrys highest-paid 20%. In response to income disparity concerns, policy makers have scrapped agricultural taxes and raised the minimum threshold for income taxes. Further measures are planned.
China has stepped up efforts to fight pollution after a series of recent accidents, including a November chemical spill that released 100 tons of toxins into the Songhua River in northeastern China. The State Environmental Protection Agency (SEPA) has threatened criminal consequences for officials who do not report chemical spills and other environmental accidents within one hour of their occurrence. According to Xinhua, 70% of Chinas rivers and lakes are polluted, and more than 300 million people in rural areas do not have adequate clean water supplies.

Thomas Clouse