INDIA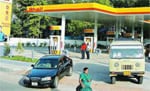 Price shock: Consumers will be paying more at the pump in India

The Reserve Bank of India (RBI) has joined the growing club of central banks raising interest rates. In a move that took bond and equity markets by surprise, the bank hiked benchmark rates by 25 basis points to 5.75%. The central bank had been expected to reassess its interest rate policy in July but made the move earlier because of concerns over rising fuel prices and the accompanying
expected jump in inflation.
At the same time, Indian consumers may find themselves paying substantially more for fuel. After years of regulating fuel prices, the Indian government has pledged to let oil companies themselves set the prices of petroleum products. Indian politicians finally bit the bullet and raised fuel prices in the first week of June in response to higher sustained international fuel prices. The cost of petrol and diesel was increased by 9.2% and 6.6% respectively. However, despite this increase, only a part of the true cost of fuel has been passed on to the consumer. The oil companies still bear a portion of the cost of crude.
Stock prices reacted predictably to the hike in fuel prices and in interest rates and dropped sharply on the news. Indian stocks are now down 25% in a little more than a month. Indian stock prices had recently been driven to record highs, largely due to strong inflows from foreign institutional investors who have been investing an average of $1 billion a month for the past several months until April 2006. In May foreign institutional investors sold $1.5 billion worth of Indian equities, thus reversing the flow and bringing down the market.

Aaron Chaze