India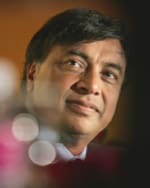 Mittal chairman, Lakshmi N. Mittal

The steel market in India is getting hotter by the day. Hard on the heels of POSCO of South Korea and Mittal Steel announcing their respective investments of $12 billion and $9 billion in setting up gigantic integrated steel plants, Indian companies have begun to make their own announcements. JSW Steel, the third-largest integrated steel maker in India, will invest $1.2 billion to expand its steel-making capacity from 2.5 million tons per annum (mtpa) to 3.8 mtpa at its southern Indian location. This will quickly be followed by another round of expansion that will push capacity up to 7 mtpa and then 10 mtpa by 2010. The company is also planning to build a new integrated unit in eastern India with a capacity of 10 mtpa, investing another $7.5 billion.
The dramatic increase in capacity is likely to be matched by growing demand, according to a recent study of Indian economic growth. According to the study carried out by the Business Standard newspaper, the Indian manufacturing sector (the survey looked at 1,227 companies) reported a revenue growth of 14.4% for the quarter ended September 2005. Despite being a very robust growth rate, the report pointed out that it was actually the lowest quarterly rate since June 2003, which saw a growth rate of 12% in manufacturing revenues. The manufacturing sector in India posted a revenue growth of 20% for six consecutive quarters between December 2003 and March 2005, before slowing down a little in June 2005.
As corporate India continues its phenomenal growth, Indias quest for energy security is gaining ever-greater momentum. After losing in the bid to acquire PetroKazakh, ONGC, Indias largest upstream oil company, through its joint venture company ONGC Mittal Energy has entered into an arrangement with the Nigerian government to acquire deep-water oilfields producing 650,000 barrels of oil per day (bpd) for a period of 25 years in return for $6 billion worth of investments in infrastructure projects such as a 2,000 MW power plant, railways systems and a 180,000 bpd refinery.


Aaron Chaze