China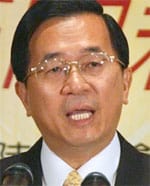 Taiwans president Chen Shui-bian

Two of Taiwan's political leaders were met with enthusiasm from the Chinese people and the domestic media during recent visits to the mainland. Lien Chen in late April became the first chairman of Taiwan's Chinese Nationalist Party to return to the mainland since the party fled in 1949 to Taiwan. And James Soong, the leader of another of Taiwan's political parties, traveled there in May. Both reaffirmed commitments to peaceful reunification and continued economic cooperation, while China offered various incentivesincluding two pandasto win support from Taiwans 23 million residents.
Taiwans president Chen Shui-bian has challenged the validity of commitments made by Lien and Soong, who represent minority parties rather than Chens pro-independence Democratic Progressive Party. Chen Shui-bian has repeatedly rejected the one China principle, but he will probably now face increased pressure, both domestically and abroad, to meet with Chinese President Hu Jintao.
While Chinas diplomats were buttering up Taiwans opposition politicians, the countrys finance ministers were coming under growing international pressure to abandon Chinas currency peg to the US dollar. While North American and European countries threatened possible sanctions, speculators bought heavily on rumors of an exchange rate change.
New requirements from China's State Administration of Foreign Exchange (SAFE) have blocked a method for Chinese private companies to raise capital in overseas markets. In the past, Chinese companies circumvented rules limiting foreign investment by setting up foreign shell companies. The new requirements force residents to register any assets transferred abroad.

Thomas Clouse