CHINA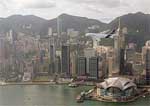 Hong Kong: Focus of tension with the US.
China stoked military tension with the United States by denying entry to a number of US naval vessels looking to dock in Hong Kong. In the most publicized of these denials, aircraft carrier USS Kitty Hawk was prevented from docking in Hong Kong for a scheduled Thanksgiving Day weekend stop. China later reversed the decision, but the aircraft carrier had already changed its course. Other US naval ships were also denied entry in recent weeks to the Hong Kong harbor, a common stop for US military ships in the Pacific.
More than 100 miners were killed in early December when a gas explosion occurred at a mine in China's coal-rich Shanxi Province. Officials arrested the mine's manager and chief financial officer, detained dozens of others and froze the company's bank accounts, according to China's state-run media. China obtains most of its energy from coal, and the country's rapid economic growth has pushed many mine supervisors to ignore safety regulations in pursuit of greater production and profit.
China Railway Group raised $5.5 billion in Shanghai and Hong Kong IPOs in December. The company's stock price rose by 30% during the first day of trading on the Hong Kong Stock Exchange and almost 70% during the first day of trading in Shanghai. Enthusiasm for the sale stemmed largely from government pledges to drastically increase spending on railroad construction.
Ping An Insurance, China's second-largest insurer, announced in early December that it had received regulatory approval to invest up to 15% of its total assets overseas. Ping An is the first insurance company to receive such approval since the country's insurance regulator in July raised the allowed limit for overseas investment from 5% to 15% of total assets. The increased allowance will enable Ping An to further diversify its investments, reducing risks associated with investing in the country's rapidly growing but volatile domestic stock markets. Loosening such limits will also take some pressure off the country's ballooning foreign exchange reserves. Ping An also announced on November 29 that it would purchase a 4.2% stake in Belgian financial services company Fortis.
Thomas Clouse