Russia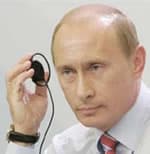 Russia's Vladimir Putin at the recent G-8 summit
Relations between Russia and the West plunged to fresh post-Cold War lows, as the planned US missile shield in the Czech Republic, the investigation of the death of Alexander Litvinenko, the slow-motion crackdown on free speech in Russia and a range of other issues ratcheted up tension levels. The early June Group of Eight meeting in Germany, and Russian president Vladimir Putin's suggestion that the United States use radar in Azerbaijan rather than build a separate missile shield, helped soften what had been rapidly escalating rhetoric, although domestic political maneuvering in Russia will likely result in continued harsh words.
Tensions also rose after it became clear that UK-based oil giant BP is likely to lose its license for the massive Kovytka gas field in eastern Siberia, signaling again the lengths the Kremlin is prepared to go to increase its control over the Russian energy sector. State-owned gas giant Gazprom will probably take over the $20 billion project, in a development reminiscent of last year's forced sale by Royal Dutch Shell and its Japanese partners of a controlling stake in the $20 billion Sakhalin-2 project to Gazprom.
In another sign of the rising prominence—and acquisitiveness—of Russian corporates in the global market, Norilsk Nickel bested global mining powerhouse Xstrata in a battle for Canadian miner LionOre, paying $6.3 billion. Days later Russian aluminum producer Rusal was rumored to be interested in acquiring a significant stake in Norilsk Nickel.
Speaking at the St. Petersburg International Forum in early June, deputy prime minister Sergei Ivanov projected that Russia will be one of the world's five largest economies by 2020 (it is the 10th largest now). He brushed aside criticism that Russia is backsliding on democracy, contending that Russia is treading its "own path."
Rising uncertainty over the political environment and a flood of IPOs have put severe pressure on Russian shares, though. As of early June the Russian stock market was down 7% for the year, making the bourse one of the world's worst performing.
Kim Iskyan