Brazil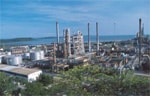 Petrobras: Investing heavily

The rapid appreciation of the Brazilian real against the dollar since last year is sparking concerns in Brasilia, as the situation has already prompted a slowdown in the nations oncethriving export sector. May exports hit a three-year low, bringing the trade surplus to $3.03 billion from Aprils $3.1 billion.
While exports rose by 6.5% in April, growth was only 4.7% in May.The central bank forecasts 8% export growth in 2006, down from a 23% expansion in 2005. Local corporates, however, expect falling interest rateswith the benchmark Selic rate at a fiveyear low of 15.25%to fuel enough domestic demand to offset the drop in export sales. Lower interest rates already supported a 3.4% year-on-year GDP expansion during the first quarter of the year.
One of the countrys highest-profile exporters, Petrobras, the state-owned oil company, will invest $6.5 billion in 2007-2011 to build a new petrochemicals complex in Rio de Janeiro state, representing its largest-ever single outlay.The project will be operated in conjunction with Ultra, a local partner.
Meanwhile, Brazilian retailer Atacado went up for sale and is expected to raise as much as $1 billion, with bidders reportedly including Wal-Mart and Carrefour. CESP, a stateowned energy company, will raise an estimated $2.4 billion on domestic and international markets in a bid to slash debt costs.The company will sell $1.27 billion through primary and secondary share offerings, $885 million worth of debentures and up to $288 million of receivables.
The government has also been raising money.The National Treasury in June resumed its offerings of Letras Financeiras do Tesouro (LFTs), floating-rate treasury bills, for the first time since the program was suspended in late 2005. Proceeds will be used to refinance existing debt falling due over the short term.The government has set a target of having 39% of its debt in LFTs by the end of the year.
Antonio Guerrero