Africa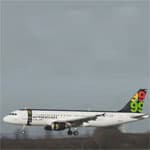 Africa's airlines are looking to tap new credit lines.
The Central Bank of Nigeria issued guidelines for establishing and operating credit bureaus, in a move that will support the development of the country's credit market by providing greater access to information on creditworthiness. Under the new guidelines, banks and their subsidiaries can invest up to 10% of a credit bureau's paid-in capital, though no financial institution may take a stake in more than one credit bureau. To apply for a credit bureau license, a company must deposit the equivalent of some $4.2 million with the central bank as a refundable minimum capital requirement. The central bank must approve the appointment of all credit bureau directors and managers.
The country's banks have been active recently, with Skye Bank, UBA and the First Bank of Nigeria offering ailing African airlines the possibility of tapping new credit lines. African carriers were expecting to post some $700 million in losses last year on account of high fuel costs and increased competition from foreign airlines. US aircraft manufacturer Boeing estimates Africa's airlines will need to replace nearly 75% of their ageing fleets by 2027. Analysts warn that new investments in air traffic control systems and airport infrastructure are also needed.
Morocco-based Attijariwafa Bank, Africa's seventh-largest bank by assets, acquired French bank Crédit Agricole's African banking network, boosting its position as a regional market player throughout the continent. Attijariwafa Bank has a market cap of E5 billion and operates in 23 countries, with the acquisition adding E1.425 billion in assets. The E250 million transaction gives Attijariwafa Bank an 81% stake in Crédit du Congo in Congo, a 51% stake in Société Ivoirienne de Banque in Côte d'Ivoire, a 65% stake in Société Camerounaise de Banque in Cameroon, a 59% stake in Union Gabonaise de Banque in Gabon and a 95% stake in Crédit du Senegal in Senegal.
Antonio Guerrero