AFRICA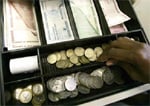 All change: Zimbabwe's coins have value again.
With hyperinflation eroding the nation's economy, Zimbabwe's government is taking desperate measures. It lopped off 10 zeros from the Zimbabwe dollar, as inflation is now running at 2.2 million percent per year. The move, which went into effect on August 1, follows a similar strategy that cut three zeros off the Zimbabwe dollar just two years ago.
Analysts say that while the revaluation could have a short-term impact, it does not address dwindling investments amid mounting calls for international business sanctions against President Robert Mugabe's 28-year-old regime. While the local currency was worth more than the US dollar at the time of Zimbabwe's independence in 1980, when Mugabe took power, its value plummeted to near Z$200 billion to the US dollar prior to the recent revaluation. Mugabe blames the business sector, both domestic and foreign, for the country's economic ills and threatens to take additional emergency measures.
In neighboring South Africa, unrest is growing over rising prices. Following an energy crunch that shut down South African mines in January, striking workers again brought the country's mining and industrial sector to a standstill in August, further threatening this year's growth outlook. Strikers protested against rising electricity, food and fuel prices, as well as a 23% unemployment rate. The nation's economy grew by an average 5% over the past four years, but growth is expected to slow to 3% this year. In a report published in July, Moody's warned that Africa's largest economy is headed for recession by year-end. Pretoria dismissed the report as "alarmist."
The government of Côte d'Ivoire planned to sell some $142 million in three-year bonds on August 28 to help finance the country's post-civil war reconstruction and pay for democratic elections scheduled for November 30. Elections were postponed twice since 2005. The country has been immersed in a bloody civil war since a 2002 military coup. The bonds, sold through the Central Bank of West African States, were expected to yield 6.25%.
Antonio Guerrero