CHINA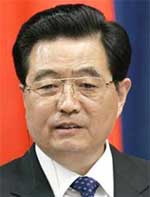 China's president Hu Jintao aims to improve relations with Japan.
Rescue workers on May 14 reached southwestern China's Weixian county, the epicenter of an earthquake that shook cities across Asia and damaged 70% to 80% of the buildings in some Chinese towns. China's state-run Xinhua news agency, quoting officials from rescue headquarters, reported that fatalities could reach 50,000. The massive earthquake measured 7.9 on the Richter scale and damaged hundreds of dams across southwestern China, further threatening downriver cities. The government dispatched some troops to reinforce these dams as other military personnel and rescue workers struggled to reach isolated towns and villages.
Before he visited the disaster area, China's president, Hu Jintao, was in Japan where he pledged greater cooperation—and a pair of pandas. The visit, the first by a Chinese president in a decade, laid the groundwork for improved relations but avoided concrete measures on a number of contentious issues. Ownership of gas fields in the East China Sea tops the list of these issues. China has begun developing the fields, despite Japan's claim that the area falls under its political control. The two leaders expressed hope that the ownership dispute could be settled and also discussed safety issues related to imported Chinese food. China surpassed the United States to become Japan's largest trading partner last year, while Japan is China's third-largest trading partner.
Pro-China demonstrations took place across China beginning in April at outlets of French retailer Carrefour and other foreign-owned businesses after protesters overseas disrupted the Olympic torch relay and some international leaders, including French president Nicolas Sarkozy, decided to skip the opening ceremony of the Olympic Games in Beijing this summer. Many demonstrators expressed anger at what they believed to be biased news coverage by foreign media of protests that took place in Tibet in March. Representatives from the Chinese government and the Tibetan government-in-exile met in southern China in early May.
The country's Olympic Games preparations hit further turbulence in mid-May when the city of Beijing reported its first death due to hand, foot and mouth disease. The disease has swept across China in recent months, infecting tens of thousands of people and killing more than 40 children. The disease, which infected 80,000 and killed 17 people last year, is common in China and can occasionally prove fatal, especially for children.