MIDDLE EAST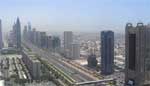 Dubai: Financial center is attracting global banks hungry for regional growth .
New York-based Citi moved one of its top bankers to Dubai last month, while Standard Chartered of the United Kingdom opened the largest trading floor in the region at the Dubai International Financial Centre (DIFC), and Nomura, the leading Asia-based investment bank, was granted a license to open a securities business in Saudi Arabia.
Standard Chartered says its new trading room, with 200 seats, will be on a par with similar facilities in London and New York. "Our presence here will allow us to be more creative and futuristic as the DIFC continues to attract Arab liquidity," says Ray Ferguson, chief executive-UAE of Standard Chartered Bank.
Alberto Verme, Citi's global co-head of investment banking, is relocating to Dubai from London. "This is the first time that we or any of our competitors have stationed the global head of a major business in the Middle East region," Citi said in an internal memorandum. Verme will continue to have responsibility for Citi's investment banking division, along with co-head Ray McGuire, who is based in New York.
Nomura's Saudi license will enable it to conduct capital markets, corporate finance and wealth management activities in the kingdom. Japan's largest investment bank, Nomura is the first East Asian bank to operate in the country. The Saudi equity market remains closed to international investors.
While capital markets in the region are growing and maturing, the move isn't coming fast enough to satisfy some companies. Samih Sawiris, the billionaire owner of Egypt's Orascom hotel chain, announced last month that he would relocate the company to Switzerland to gain better access to capital markets to fund the expansion of the business in Europe and elsewhere. The company plans to list on the Swiss Stock Exchange and maintain secondary listings in Cairo and Alexandria.