INDIA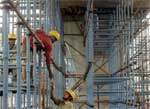 India's construction industry promises rich returns.
Bharti Airtel, India's largest wireless company, with 62 million subscribers, is in talks with MTN of South Africa to acquire between 51% and 100% of that company. The deal could potentially be worth $20 billion for the 51% stake and when finalized would be the largest overseas acquisition by an Indian company, topping the $12 billion deal between Tata Steel and the UK's Corus Group. Bharti has offered 70% stock and 30% cash for the acquisition, with a preference for a 51% stake. MTN's management has asked for a higher valuation than the $22.63 per share offered by Bharti and prefers a 100% takeover. Bharti Airtel has a current market capitalization of $40 billion, and the merger between Bharti and MTN will create the world's sixth-largest telecom operator, with a presence in 20 countries.
Bharti is clearly going with the flow: A report from ABN AMRO in India said that the current global market conditions are ripe for Indian companies looking to get more aggressive with overseas acquisitions. In 2007, Indian cross-border M&A; activity was worth $70 billion, mostly concentrated in Europe (acquisitions of Corus, Arcelor, Istanbul Airport and REpower Systems are major examples). In the first three months of 2008, though, just $10 billion of deals have been announced. ABN AMRO believes Indian companies have a competitive advantage in metals and mining, autos and auto components, telecom, technology and power.
French building products company Lafarge, the world's second-largest cement maker, has become the leading player in the Indian ready-made concrete (RMC) market with its latest acquisition. Lafarge paid close to $400 million to purchase the entire RMC business from Indian engineering giant Larsen & Toubro. The acquisition, which involves the takeover of 66 plants across India, with a total capacity of 4.1 million tons, will give Lafarge a 25% market share and puts it in a comfortable lead over its European rival Holcim of Switzerland in the race to acquire assets in India. Before this acquisition Lafarge had a cement production capacity of 5.5 million tons in India.