BRAZIL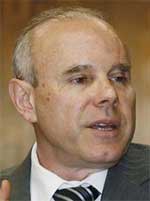 Mantega: Central bank reserves will not be used for wealth fund.
After years of speculation over when and if Brazil would achieve a coveted investment-grade rating, the move finally caught almost everyone by surprise. Standard & Poor's upgraded Brazil's long-term foreign currency rating to BBB- from B+ on April 29, just ahead of the May 1 holiday. It also upped the local currency rating from BB+ to BBB. Although many analysts had contended the upgrade was overdue, others predicted a decision was not likely before year-end or even early 2009.
"The upgrades reflect the maturation of Brazil's institutions and policy framework, as evidenced by the easing of fiscal and external debt burdens and improved trend growth prospects," says S&P; credit analyst Lisa Schineller. She cautions that, at 47% of GDP in 2007, Brazil's general government debt remains higher than for its ratings peers but that the risk is mitigated by pragmatic fiscal and debt management.
With the upgrade lowering borrowing costs, Brazil sold $500 million in bonds in early May, reopening a deal launched in November 2006. The bonds, which mature in 2017, were priced to yield 6.25% when they were initially offered in 2006, dropping to 5.89% at an April 2007 reopening. May's reopening, managed by Deutsche Bank and HSBC, yields a lower 5.3%. Corporate borrowers also hope to take advantage of the drop in bond spreads after the ratings action. Petrochemicals giant Braskem expects to raise up to $1.2 billion in coming months. Banks are in talks with other issuers to bring deals to market.
Brazil plans to funnel increased tax revenues, which rose by 13% in April, into a sovereign wealth fund that will help absorb excess dollar liquidity. The new fund could be launched in June with some $20 billion. Finance minister Guido Mantega says the government will not use any of the central bank's $195 billion in international reserves for the fund.