AFRICA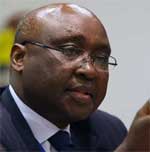 Kaberuka: Cereal export limits imperil 150 million Africans' lives.
Food shortages continue to cause severe disruption in many African countries, prompting the African Development Bank (AfDB) to pledge up to $1 billion in subsidies and grants to help African farmers increase crop production. The AfDB is hoping its initiative will help farmers who have been unable to buy fertilizer because of skyrocketing prices. According to the AfDB, fertilizer prices have nearly quadrupled since the start of the year. AfDB president Donald Kaberuka also urged cereal-exporting countries to lift export restrictions, which he says imperil the lives of 150 million Africans dependent on food imports for their existence.
China continued its seemingly relentless march into Africa as it finalized an agreement with the Democratic Republic of Congo (DRC) to provide a vast transport infrastructure network in exchange for 10 million tons of copper and over half a million tons of cobalt. The agreement is estimated to be worth over $9 billion to DRC but caused controversy because it may jeopardize $8 billion in loan write-offs from multinational lenders.
Neighboring Congo Republic has struck a deal with Italian oil giant Eni that involves the company investing $3 billion over the next four years to build power plants, develop oil production and refining facilities and establish a biofuel pilot project. In exchange, Eni gained the exploration rights to substantial oil sands deposits in Congo that it estimates could yield several billion barrels of crude oil.
Togo-based Ecobank Group announced plans to raise up to $3 billion through debt and equity issues over the next few months. With branches in 22 African nations, Ecobank is already one of the leading bank groups on the continent. It is hoping to use the money it raises to fund its increasingly ambitious regional and international expansion plans.
Ratings agency Standard & Poor's says the wave of economic growth spreading across Africa will help drive social and political progress over the next few years. S&P; says the commodities boom and the competition between China and India for Africa's resources (see cover story, page 19) are the key factors fueling the continent's economic progress.
Dan Keeler