INDIA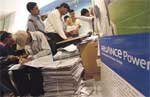 Piling in: Investors gave an enthusiastic response to Reliance Power's $3 billion IPO.
In its bid to keep up the growth momentum in the Indian economy, the Indian coalition government lifted investment restrictions on foreign investors in a number of sectors, including aviation (cargo and charter airlines and helicopter services), oil refining, commodity exchanges, titanium mining, industrial parks, credit information companies and construction services. A dramatic change has come about in aviation, where foreign investors can now hold 74% equity in cargo and charter services as well as in ground handling services. This follows a pattern of reform in aviation, where earlier the government allowed a 100% foreign ownership of aircraft maintenance and in flight training services. The government has said that it needs $120 billion in investments to build up various facets of the aviation sector. The other major boost has come in oil refining, where the foreign equity cap has been lifted to 49%. India expects foreign direct investment (FDI) to reach $30 billion in 2008.
While their government continues to push hard for foreign investment, Indian companies continue to hunt for large acquisitions overseas, putting strong domestic growth and cash flows to good use. Tata Chemicals is the latest, announcing a $1 billion acquisition plan to purchase General Chemical Industrial Products in the United States. The acquisition will make Tata Chemicals the world's largest soda ash manufacturer, with 14% of global manufacturing capacity.
While January was a tough month for global equity markets, investor sentiment in India remains buoyant. A major test of that sentiment was Reliance Power's $3 billion IPO—India's largest ever. The January IPO was a success, bucking a global trend. According to Thomson Financial research, global IPO issues were down by 12% in January, at $6.3 billion. The Reliance Power IPO is being followed by a $1.5 billion IPO from Emaar MGF, a construction conglomerate. There are $14 billion worth of domestic IPOs lined up in the first half of 2008. BSNL, India's largest telecom operator, also announced its intention to float a $10 billion IPO.
Aaron Chaze