BRAZIL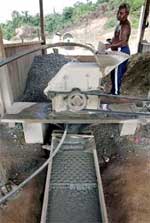 Rock solid: Vale is thought to be ready to bid for Xstrata.
Brazilian mining giant Vale (formerly CVRD) is in talks to acquire Swiss mining company Xstrata, reportedly for $90 billion. The deal would be the single largest cross-border acquisition by a Latin American company. Vale may be considering issuing $30 billion in preferred shares to raise funds for the purchase, with the remainder funded with both cash and additional debt.
Analysts contend that, while Vale had little trouble raising $18 billion in debt to acquire Canadian mining company Inco in 2006, current global financial market turmoil could pose a challenge, although several banks are said to already be putting together a financing package. If the company is forced to pursue an all-cash bid, the new debt issuance required to complete the deal would boost Vale's ebitda (earnings before interest, taxes, depreciation and amortization), jeopardizing its BBB/Baa3 investment-grade rating.
In a move to boost transparency in fixed-income trading and improve primary and secondary market bond pricing, the Brazilian treasury and central bank unveiled new performance targets that broker/dealers must meet to gain access to the treasury's special operations, including public sector bonds. Broker/dealers must now post bid and ask prices twice daily on bonds they are trading, among other measures. The central bank also issued new rules setting reserve requirements for leasing company debentures held by local banks, in a move to control aggregate demand. Banks often sell debentures to their parent groups as a funding strategy.
The central bank's monetary policy committee (Copom) left the benchmark Selic interest rate unchanged, at 11.25%, at the January policy meeting. Yet language included in the meeting's minutes suggests the bank may reinitiate rate hikes by as early as March or April. Much will depend on domestic demand and inflation levels, with rising food prices threatening the government's 4.5% inflation target. Copom last increased the Selic rate in May 2005.