MIDDLE EAST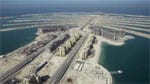 Trouble in paradise: Dubai feels the chill of a global recession.
Property prices on Dubai's upscale Palm Jumeirah, an artificial island shaped like a palm tree, fell sharply late last year. Construction work on the Trump International Hotel & Tower, the planned centerpiece of the complex, was halted in early December. A shortage of liquidity is clearly being felt in the region. Nevertheless, strong growth is expected in some countries.
"While not immune to the crisis in the global financial markets, looming world recession and falling oil and gas prices, Qatar is well placed to weather the storm and is projected to continue growing at around 10% in real terms in 2009," says Howard Handy, chief economist at Samba Financial, based in Riyadh. "On the basis of most available growth projections [for 2009], this would make it the fastest-growing economy in the world," he says.
Qatar's economic growth is being fueled by exports of liquid natural gas sold under long-term contracts. It is inevitable that some of Qatar's many real estate projects will be delayed, but this will help to remove capacity constraints and ease inflation pressures, Handy says.
Moody's Investors Service says Islamic financial institutions have proved resilient in the face of the global financial crisis. With their ample capital and strong retail platforms, they should realize growth in assets of 10% to 15% in 2009, Moody's says.
Meanwhile, Bahrain-based Arab Banking Corporation (ABC), a major regional investment bank, is realigning its banking model to focus on building a universal banking business in North Africa and the Levant. Hassan Ali Juma, president and chief executive of ABC, says the bank is enlarging its distribution channels by opening new branches and widening product offerings to retail customers.
ABC's primary focus is on organic growth, but the bank will consider any investment opportunities that arise, Juma says. "Change is always a challenging process that requires careful management," he says.
The global credit crunch has largely frozen interbank markets and has had some impact on ABC's funding, but the bank has made arrangements that will ensure there are no detrimental effects from current market conditions, Juma says.

Gordon Platt