CHINA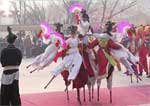 Riding high: China's economic growth continues to break records.
China's economy grew 11.4% in 2007, its fastest rate in 13 years. Fourth-quarter GDP growth fell to 11.2% year-on-year, however, as government tightening measures and weakening global demand began to weigh on the economy. This is the fifth year in a row that China has achieved double-digit growth, and the country will likely surpass Germany this year to become the world's third-largest economy. Inflation, which has risen rapidly in the past year, dropped slightly in December to 6.5% from its 11-year high of 6.9% in November.
China's state-owned enterprises (SOEs) benefited greatly from the country's economic strength, posting record profits totaling 1.62 trillion yuan ($225 billion) in 2007, up 31.6% from the preceding year, China's ministry of finance reported in January. The most dramatic profit growth came from the machinery, automotive and chemical industries, with growth rates of 73%, 71% and 65% respectively.
The Industrial and Commercial Bank of China (ICBC), the country's largest bank, received approval from China's banking regulator in early February to invest 36.67 billion rand ($4.9 billion) for a 20% stake in South Africa-based Standard Bank. The Chinese government is encouraging its companies to diversify by investing overseas, especially in resource-rich Africa. ICBC's profits grew by more than 60% to 48.8 billion yuan ($6.8 billion) in 2007, according to the bank's own preliminary estimates. The bank's profits, combined with the $21.9 billion raised in its 2006 IPO, will provide further funds for ICBC as it continues its expansion overseas.
The worst winter storms in five decades pummeled southern China in January and early February, severely testing the country's infrastructure and preventing many migrant workers and students from returning home for the lunar New Year, China's biggest holiday. The storms are responsible for at least 60 deaths and $7.5 billion in damage, according to China's ministry of civil affairs. The storms destroyed agricultural crops and greatly slowed transportation, pushing up food prices around the country.
Thomas Clouse