RUSSIA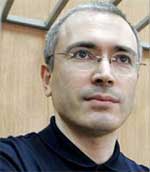 Khodorkovsky: The jailed former head of Yukos is back in the news.
The Russian presidential campaign kicked off in mid-January, with Dmitry Medvedev—who is virtually guaranteed victory in the early March poll thanks to the support of current president Vladimir Putin—striking a more liberal tone, pledging to strengthen democracy and accelerate the battle against corruption. Meanwhile, former prime minister turned opposition leader Mikhail Kasyanov was barred from running for president on a technicality.
The country's stable political future did nothing to protect Russia's stock markets from a pummeling in the global market correction in January. The turmoil cast doubt over the notion that a burgeoning economy, low valuations and declining political risk would serve to insulate the Russian equity market from global market jitters.
Further wrinkles have appeared in Russia's public image after Mikhail Khodorkovsky, the former head of Yukos Oil serving an eight-year prison term for fraud and tax evasion, started a hunger strike in late January to protest the refusal by Russian officials to give proper medical treatment to a former colleague who is awaiting trial in Moscow. The former head of Yukos's legal department, Vasily Alexanian, charged with embezzlement and money laundering, says that prosecutors are withholding treatment until he confesses to crimes he contends he did not commit.
Russia's finance minister Alexei Kudrin said that the country intended to learn from sovereign wealth funds when it begins to invest its rising wealth abroad. Kudrin said the government would cap the stakes the national wealth fund could take in foreign companies at 5%. The Stabilization Fund, created on the back of rising government revenues from commodities wealth and with nearly $160 billion under management, was divided into two separate entities, one of which will probably resemble a sovereign wealth fund.