Global Finance


brought together some of the key players in Brazil Day 2003 in a roundtable to discuss the state of the Brazilian market and the prospects for investors.


Global Finance


publisher, Joseph Giarraputo, moderated the discussion.








Global Finance:


Please tell us a little about yourselves and your companies.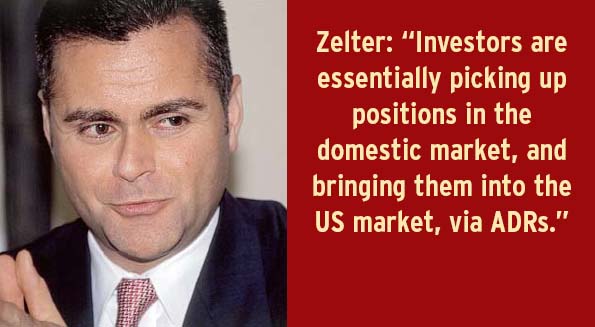 RUIZ FERNANDO ROLLA,

investor relations officer, CEMIG: I also work for Latino Chile.We serve the largest electricity market in Brazil, with more than 5.7 million consumers spread out in the state of Minas Gerais.We have very ambitious plans to develop our installed capacity and believe the future for Brazils electricity concerns will be very strong given the plans that the current federal administration has to foster economic development in Brazil.We are state-owned so we are constrained by severe regulations on acquiring debt:We count on our own cash flow to finance expansion. In spite of that,we can develop some transactions to help finance our projects. Currently we have under construction five power plants aimed at supplying the market after 2005 and 2006, when we believe the current overcapacity will be gone.

ALFREDO SETUBAL,

investor relations director, Banco Ita: Banco Ita is the second-largest private bank in Brazil.We have more than $8 billion in market capitalization and total assets of R115 billion.We have more than 10 million active clients, 14 million checking accounts, plus more than 10 million savings accounts. Ita bought four state banks during the past five years, and we have consolidated our client bases and branches so we have coverage in the most important states in Brazil.We also completed the acquisition of BBA, a wholesale bank, to create ItaBBA. All corporate banking business is concentrated in ItaBBA Bank.

JOSE CARLOS GRUBISICH, CEO,

Braskem: Braskem is a new company in the petrochemical sector. Created in August 2002, Braskem is the result of the merger of six different companies, all of them operating in the petrochemical sector. Braskem is the first company in Brazil to integrate the first and second step in the chain of the petrochemical sector.We are involved in the production of basic petrochemicals, and we are integrated in the production of the thermoplastic resins.We position ourselves as the leading company in Latin America in the thermoplastic resins market with a competitive backintegration with our key raw materials. We are the largest petrochemical company in Latin America, and we are among the top five industrial companies in Brazil with Brazilian capital. We are listed in So Paulo, we are listed with ADRs in New York,and we listed Braskem a short time ago in the European market. The Brazilian petrochemical industry grew basically through the debt market, and we are trying to fund our growth in the future through the equity markets. Our market is growing very fastup to four times faster than GDP.


GF:


Is Braskem growing its exports to China?

GRUBISICH:

Yes. Braskem is among the top 10 exporters of manufacturing products in Brazil. We export to all major regions.The most important single market is the US, but almost 20% of our exports go to Europe, 20% in Latin America and 20% to Asia. In Asia the key market for us is China.We see that market is moving very fast.


GF:


How do you think investors opinions of Brazil have changed since President Lula took office, and what impact has this had on the local market?

GRUBISICH:

Brazils macroeconomics have improved considerably since the beginning of 2003, with a significant reduction of interest rates and a surplus in the balance of trade. Of course this has created a positive environment for business in Brazil and for Brazilian companies outside Brazil. It has been much easier to get new and more competitive credit lines with longer maturities.At the same time this is creating a positive business environment, so the outlook, even in terms of micro economy, is much better.We think 2004 will be much better, with a recovery in GDP growth and all the major indicators moving in the right direction.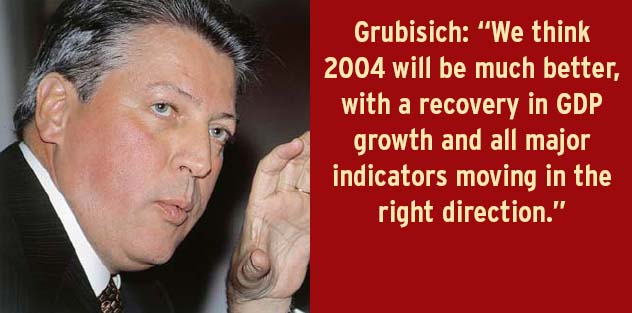 SETUBAL:

Many feared what Lulas party would do with the economy. These fears have almost completely disappeared. The government made pragmatic economic decisions. The team that was appointedthe finance ministers and everybody related to the central bank and planningwere very in line with international standards. This government has also begun a lot of reforms. Some are not perfect, but they are a step in the right direction. These things give investors confidence. That is evident from the country risk coming down from 24,000 points to 600 today. Of course Brazil continues to present some risk, but things are improving much faster than we expected.

MARIA HELENA DOS S. F. SANTANA,

listings and issuer relations superintendent, BOVESPA: Since the election, local share prices have risen 100% in dollar terms. Daily trading volumes at the stock exchange have grown by more than 100%, and there is a surplus of almost $2 billion in foreign portfolio investments in equities in Brazil.We havent yet seen a return of FDI, but that may be the next step.

ANDREW ZELTER,

vice president, The Bank of New York: In terms of ADR flows, leading up to the election the markets response was to reduce their Brazilian exposure by canceling or selling out of their ADR positions. A large portion of the take-up of that selling activity occurred back in the local market. So we actually saw net ADR positions decrease leading up to the election and for the first few months after that.We have seen a reverse of that trend, and for the past several months there has been a net inf low, which indicates investors are essentially picking up positions in the domestic market, and bringing them into the US market, via ADRs. Thats one of the reasons why the Brazilian equities indexes are among the best performing worldwide. The markets have opened up as investors have become more familiar with the policies of the new administration.

ROLLA:

We are concerned about some proposed changes in regulation. We believe it is necessary to be more pragmatic, focusing on points that will give foreign investors the opportunity to compare Brazils prospects with the other opportunities they have all over the world. It is important to bring down the countrys risk, which is still very high.


GF:


President Lula seems to be promoting a South American trade bloc to counter-balance the US and NAFTA.How do you view this?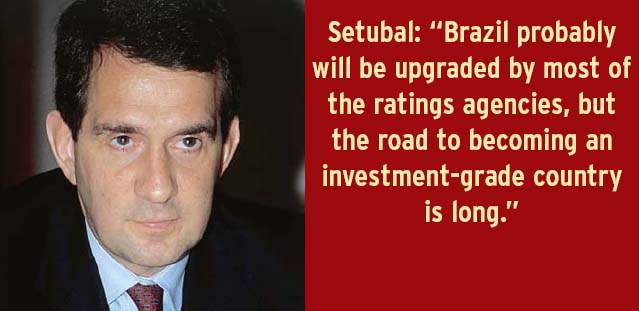 SETUBAL:

President Lula is trying to revive the MercoSud.The government is committed to increasing Brazils participation in trade; currently its share of international trade is just 1%.All these trade blocs are very important and will do a lot for Brazil.

GRUBISICH:

The Brazilian position is pragmatic. Brazil is trying to improve its position in the global market to find a better balance with the US and NAFTA. It is trying to build its relationship with Europe, with Argentina and with other neighboring countries. While the negotiation with the FTAA is important, it is not the only option. The government is committed to finding an agreement that enables Brazilian companies to be more competitive, to get access to new markets, and not just to open up the Brazilian market in unfair conditions.

ROLLA:

The governments strategy is to strengthen ties between the local countries, trying to enlarge the vision of the market.We understand that with a strong region and market we can discuss on a better basis the relationship with the other blocs.


GF:


What impact would an upgrade in Brazils credit rating have on local capital markets and Brazilian companies financing plans?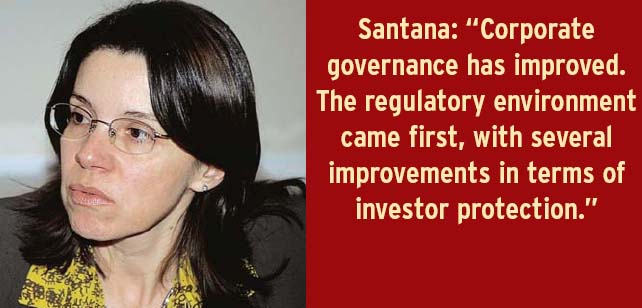 SANTANA:

It would be very good. Operationally, these companies have been performing very well, yet some still suffer from bad ratings and bad debt conditions.

ROLLA:

The ratings agencies better understand Brazil now, and they are more confident the administration will be fiscally responsible and will preserve what Brazil has in terms of economic development.

ZELTER:

An upgrade would give Brazilian corporates stronger financial flexibility, the opportunity to consider financing options outside of the domestic market and, with that, greater market visibility. Brazil, similar to many emerging market countries, must overcome market perception. Capital markets visibility has proven to be an effective tool in this regard.

SETUBAL:

Brazil probably will be upgraded by most of the ratings agencies, but the road to becoming an investment-grade country is long. If we do everything correctly, it will take four or five years at least to achieve this. Brazils numbers are much worse than those of other important emerging markets, such as Russia, India, China, Turkey. The solution for Brazil to achieve this investment-grade level is to give more sustainability to the economy.

GRUBISICH:

I would be surprised if the agencies decided not to upgrade Brazils ratings.We are still far from being an investmentgrade country because we do not have all the financial and economic conditions to be considered investment grade. The Brazilian government should be aiming to create conditions for the country to be considered investment grade.


GF:


What is the state of corporate governance in Brazil, and what impact, if any, has the US Sarbanes-Oxley Act had on Brazilian companies?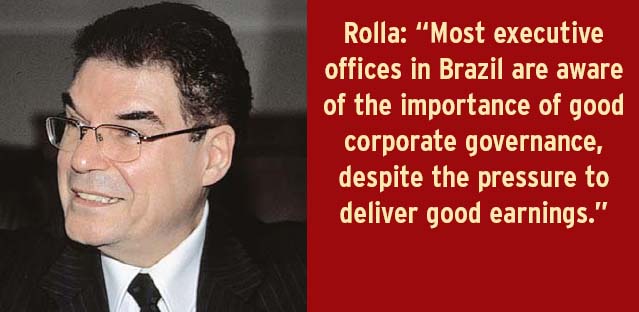 SANTANA:

Corporate governance has improved. The regulatory environment came first, with several improvements in terms of investor protection, disclosure, enforcement and some others. Regulations issued by the securities commission have also brought several improvements in terms of dis- closure and fair treatment in delisting operations.They have established prohibitions in terms of auditing firms providing other services, they have ruled on the behavior of the market analysts and the disclosures that they are obliged to make right now, and they issued recommendations about the type of relationship they can have with the investment bank or the company they are covering.And governance is a subject that is on the agenda of the important companies.At the stock exchange we have established a voluntary program for companies to give more rights to the investors, to give more information to the market.We believe it is a very clear trend for the Brazilian market to keep evolving in terms of corporate governance.


GF:


Could you tell us about the categories BOVESPA has set up relating to corporate governance for listed companies?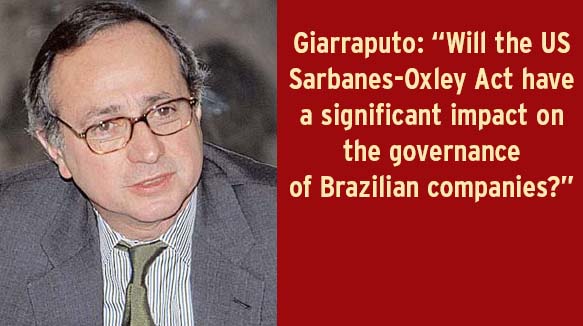 SANTANA:

We have created the Novo Mercado, which is, lets say, the standard for where we expect to see our market in the future; some of the rules are only voting shares, tag-along rights for all the shareholders, arbitration to decide on conflicts between shareholders and companies. Its a very modern corporate governance standard,and it is intended to attract new listings, with the possibility of getting better pricing due to better investor treatment. But we believe this high standard level is not something to be achieved in one step by our 400 listed companies, so we created two other steps for these companies. Level 1 deals mainly with disclosure requirements, and Level 2 is more or less what the Novo Mercado is, with the exception that it accepts non-voting shares. The majority of the companies that joined it are in Level 129 companies. Three companies are at Level 2,and two at the Novo Mercado.


GF:


Whats the corporate view on corporate governance?

GRUBISICH:

There is a premium for companies with good corporate governance, so everybody is committing a lot of time and resources to improving their own conditions. So since the beginning we committed ourselves to good and modern corporate governance. There is a board of directors with a clear role, which is complemented by an executive team.We have decided to give 100% tag-along rights to all shareholders.We are also listed in Europe and New York, so there is no other option but to be a very good citizen in terms of corporate governance.

ROLLA:

CEMIG has taken large steps to improve corporate governance. Because we are a state company, our majority shareholder can change every four years, and we have to show minority shareholders that, in spite of that, the companys strategy will not change and harm them. In Brazil, many companies have evolved in this regard; the movement is very positive for the country as a whole and will help it achieve investment grade in the future. Most executive offices in Brazil are aware of the importance of good corporate governance, despite the pressure to deliver good earnings.We are going to see a change in culture in Brazil.

SETUBAL:

Corporate governance in Brazil is improving fast, especially in larger corporations. Most Brazilian companies are much more aware of the premium it can bring to them. A lot of improvement is the result of changes in the international capital markets after the changes in regulation in the USand some in Europe. Brazilian companies, especially the ones that have ADRs, are much more aware of this.

ZELTER:

The response to the introduction of Sarbanes-Oxley in Brazil, Mexico, and perhaps Latin America as a region, was less vocal than in other regions. Nevertheless, corporate governance has certainly been the cornerstone of most presentations or conference calls or discussions. Brazilian corporates in particular have been recognized for placing greater emphasis on the entire corporate governance theme; in fact, it was something the Brazilian market was dealing with before Sarbanes- Oxley was launched. Companies that recognize this and implement corporate governance into how they operate their business and deal with investors tend to be rewarded for their efforts.

Edited by Dan Keeler