Brazil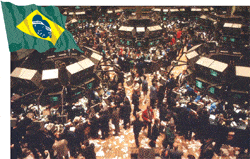 Local market jitters have failed to dampen investor enthusiasm for the Brazilian ADR market.

Geraldo Soares is happy these days. The investor relations manager at Banco Ita, Brazils second-largest bank by market value, has seen his companys two ADR programs garner record interest from investors this year. The company has seen trading volume for its ADRs jump from $209.2 million in May 2005 to a whopping $14 billion in May this year. In fact, the total May trade volume of its ADRs was larger than April and March combined, according to Interactive Data Corp. We are highly satisfied with the performance of our ADRs in 2006, he says. Our volume has grown month by month, and interest in our ADRs has shown a significant increase.
Food producer Sadia is another Brazilian company with ADR success. The companys total ADR trade went from $6.4 million in May 2005 to $47.4 million in May this year. This increase in interest from foreign investors comes from an overall interest in emerging markets as well as a better understanding of the underlying risk of the sector and Sadia, says Christiane Assis, an investor relations executive at Sadia.
Ita and Sadia are among the growing number of Brazilian companies with ADRs. All in all, Brazil accounts for 95 ADR programs, by far the largest in Latin America. By comparison, Mexico has 73 ADR programs, according to data from The Bank of New York (BNY).
Overall performance of the ADRs has been impressive. The BNY Brazil ADR index was up 19.4 % between December 2005 and the end of the first quarter this year. That was better than the BNY China ADR index and the third-best performance of the top ADR indexes.
Brazilian oil giant Petrobras, Brazils largest company by revenues and Latin Americas largest by market capitalization, has been the most traded ADR during several months this year, according to Rene Boettcher, head of Latin America marketing for ADRs at The Bank of New York. Despite the widely reported loss of its Bolivia operations after they were nationalized in May, the oil company continues to boost revenues worldwide.
Steel maker Gerdau and low-cost airline GOL were among the top-seven ADRs with the highest value growth in the 52-week period ended June 9.
Another Brazilian company, steel maker CSN, was among the top-10 performers of The Bank of New Yorks Emerging Markets ADR index during the first quarter. Brazil also dominated the banks Latin America ADR index. Five of the top-10 performers during the first quarter were from Brazil (versus only one from Mexico). And Petrobras, along with mining giant CVRD, was among the top-three ADRs by trading value in the fourth quarter last year, according to Yxa Bazan, head of depositary receipts for Latin America at JPMorgan. Measured by volume, the two were among the top-four traded ADRs, along with Brazils top wireless operator Vivo. The Brazilian companies are resilient, she says. If you compare them with Mexico, people feel they have a more diverse export mix [and] that Mexican companies are more susceptible to what happens in the US.
CVRD, the worlds largest iron ore producer, considers itself to be a global company, Bazan points out. The company has been benefiting from strong demand in China as well as from steel makers in Europe. Theyre really a world-class company, and thats how they have been promoting themselves and how investors see them, she says.
Not all Brazilian ADRs have fared as well. Cemig, Brazils largest combined power distributor and generator, saw its ADR price fall from $47.46 in January to $38.30 in May. Unfortunately, the ADR price has been affected by the macroeconomics, which brought some uncertainty to the outlook on interest rates, says Luiz Fernando Rolla, investor relations officer at Cemig. We hope once the market is better informed the ADR will resume the upward trend.
So far this year five Brazilian companies have launched new ADRs. The most significant one came from airline TAM, which launched its ADR in March. Other companies that have issued ADRs this year include water and sewage utility Copasa, residential property developer Gafisa, publishing company Saraiva and credit card processor CSU Card Systems. A similar number of Brazilian ADRs will likely be launched in the second half of the year, Bazan predicts. The companies that are big in size and have emphasis in diversifying their investor base will continue to issue ADRs, she says.
The number of new ADRs is lower than in recent years because of a combination of factors, experts say. The majority of large Brazilian companies have already launched their ADRs, mainly in the 1990s, and many smaller Brazilian companies prefer to launch an IPO at home before going international. Speed is often key for companies that want to raise capital, and a local IPO can be completed much more quickly than an ADR, says Boettcher. Finally, theres the cost aspect of launching an ADR, he adds.
The outlook for Brazilian ADRs is generally positive, despite the potential upheaval that will accompany the presidential elections in Octoberan event that traditionally causes much anxiety among investors. Ita, for one, doesnt expect any impact. We do not believe that the outcome of the presidential elections will have material impact, says Soares. Assis from Sadia adds, So far there has been no visible impact from the election on our ADR program.
However, companies like Cemig expect some consequences. The campaign always brings some uncertainty to the scenario, says Rolla. Most of the investors are concerned with a possible change [in] the federal administration. In particular, they fear a change in the regulatory framework, which could affect the industry outlook.
There is widespread agreement that the effect this time will be far less, especially than during the 2002 election. You can safely say that, compared with the previous election, the situation in the country is completely different, Boettcher says. Four years ago the country risk was a record high, and now its low. The governments macro policies and the past three years results have led to minimum concern among investors about a change in government policies, regardless of the outcome of the elections, he says.
Ita expects to see continued growth of its ADR this year. We expect that interest in our ADRs will continue to grow and that consequently the financial volumes will also grow, Soares says.
Despite the challenges faced by some Brazilian companies, the ADR still is the best option for diversifying the shareholder base and going international, Bazan says. And as long as the fundamentals of leading Brazilian companies remain healthy, their ADRs will benefit, experts say. Added to that, The Bank of New York launched a new index, the BRIC index, based on ADRs from Brazil, China, India and Russia (the so-called BRIC countries), which is expected to garner additional liquidity for Brazilian ADRs, Boettcher says. The ADRs are still alive and well for Brazilian companies, Bazan concludes.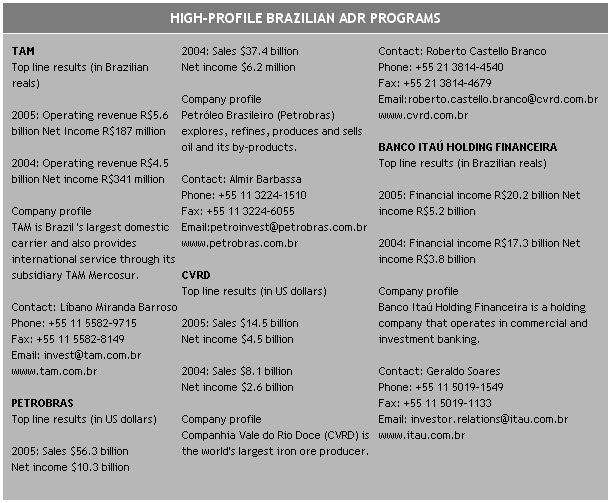 Joachim Bamrud