Brazilian companies, long used to concentrating on their countrys local market, are now


increasingly going global.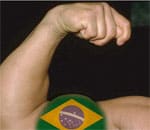 Just as the 1990s marked record foreign investment in Brazil thanks to a wave of privatizations, this decade is seeing a wave of Brazilian investment in North America, Europe and Asia. Barely two months after Brazilian mining giant CVRD, the worlds largest iron ore producer, acquired Canadian nickel giant Inco for a whopping $17.4 billion, another Brazilian company made headlines for an ambitious acquisition plan. CSN, Brazils largest steelmaker, actively bid to acquire Anglo-Dutch steelmaker Corus in another billion-dollar mega-deal. The bid failed, but it highlighted the trend among Brazilian companies in becoming increasingly global.
Other Brazilian companies that are also making their mark internationally include appliance maker Embraco, airline producer Embraer, textile company Coteminas, petrochemical producer Braskem, Gerdau Steel, cosmetics company Natura, food producers Perdigao and Sadia, oil giant Petrobras, industrial conglomerate Votorantim Group and motor producer WEG. Along with CVRD, these 11 firms are among the 100 worldwide that are on the leading edge of globalizing their companies, according to Boston Consulting Group (BCG). Archrival Mexico had just six companies on the list.
It is not just the number that is impressive: The sheer scale of many of the deals is also eye-popping. Coteminas in February 2006 created the worlds largest textile home products manufacturer when it merged its sheet and towel business with that of US-based Springs Industries to create Springs Global, with annual revenues of $2.6 billion. It also has major operations in Argentina, Canada and Mexico. Embraco, the Brazilian unit of Whirlpool, is now the worlds leader in compressors, with a 25% market share, according to BCG. The company has factories in Brazil, Italy, China and Slovakia. Gerdau, Latin Americas largest steel producer, last year acquired the Sheffield Steel Corporation (United States) and Siderperu (Peru) and became a major shareholder in Corporacion Sidenor (Spain), with a 40% stake. That follows the 2005 acquisition of Diaco in Colombia. It also has operations in Argentina, Canada, Chile and Uruguay. Gerdau Ameristeel is now the second-largest mini-mill steel producer in North America. International markets now account for more than half of Gerdaus total revenues. Petrobras, Latin Americas most profitable company, last year acquired 50% of Pasadena Refinery System in Texas for $360 million and operates in another 22 countries through oil drilling or distribution of gasoline.
Other global challengers include textile producer Alpargatas, beverage giant AmBev, pulp producer Aracruz, bathroom fixtures maker Duratex and construction giant Odebrecht.
In general there are two drivers behind the trend among large Brazilian companies of boosting their international operations, according to Geraldo Soares, president of the Brazilian Investor Relations Association (IBRI) and director of investor relations at Banco Ita. First, in some sectors of the economy overseas expansion is fundamental for achieving scale and reducing costs to be able to compete globally, he says. Second is the acquisition of technical know-how not readily available in the domestic market. In some corporate strategies both drivers are at work simultaneously, he says.
For CSN, international acquisitions are also key to remaining competitive, as the global trend in the steel sector is consolidation, says Jos Marcos Treiger, director of investor relations at CSN. The steel consolidation is a logical next step following similar consolidations in the auto and iron ore industries, he points out.
The globalization of Brazilian companies is not new. Many of the companies have had significant international sales for many years, but the expansion through acquisitions is now a key factor more than previously. CVRD has operated as a global company for several decades and has had joint ventures with Japanese, German and Italian companies for decades, in addition to maintaining offices abroad, says Jorge Beristain, director of Latin American research at Deutsche Bank Securities.
However, over the past five years it has truly diversified, first through mining exploration, which is now active in over one dozen countries, and most recently with theacquisition of Inco. Incos absorption has helped to shift sharply CVRDs asset mix outside of Brazil and to reduce its reliance solely on exports and a Brazil-only cost base, he adds.
Much of the cash to finance the acquisitions comes from a combination of strong rises in prices of commodities like iron ore and steel as well as a boost in the market capitalization of the big companies, thanks to successful ADRs and local infusions through the So Paulo stock exchange (Bovespa).
Companies listed on the Bovespa had seen their market cap reach a record 1,545 billion reals (approximately $722.6 billion) by early February, a dramatic increase from 160 billion reals in 1994, according to Soares. This impressive growth in the market value of Brazilian companies has generated new possibilities for using equity as an important tool in negotiating international acquisitions, he says and mentions Itas $650 million acquisition of Bank Boston in Chile and Uruguay in September as an example. We are experiencing a major evolution in the pursuit of new markets outside Brazil, he notes.
The increased globalization is also the result of improved management and efficiency at the large Brazilian companies, Soares argues. This trend has only been possible due to the continuous improvement in the efficiency of Brazilian companies, he says. For this reason, the leading Brazilian companies have become global players, [and] expansion overseas becomes crucial.
So how global are the new Brazilian global challengers? Embraer has replaced Canadian airline producer Bombardier as the market leader in regional jets. It acquired Portugal-based Ogma in 2005 in a joint venture with European aviation giant EADS and has a plant in China. But most of the companys management is still firmly based in Brazil.

Hurdles Remain

Despite the success, Brazilian companies face several challenges when going global. Compared with many rivals, Brazilian companies still face local hurdles like high interest rates (among the highest in the world) and an inadequate export infrastructure, Soares says. Despite much progress, Brazil has yet to be awarded investment grade from the international credit agencies.
Brazils globals also have to deal with an insufficient labor pool, according to Treiger. Human resources is a challenge, he says. If you visit American and English universities, you can observe big numbers of Indian students trying to get Masters or PhDs. They are then going back home, which is one good reason why India is progressing so much.
The companies also have individual weaknesses and strengths. CVRDs weaknesses include its past as a state company when it became a complex conglomerate, spanning non-core activities and assets like ships, pulp mills and minority steel stakes. Management has made efforts to divest non-core assets over the past five yearsbut it still has a fairly complex divisional and operational structure, Beristain says. Its strength includes high-quality, large and long-life metals reserves, which combined with its modern asset base and effective management allow it to maintain a low-cost and leadership position in many of the metals and minerals in which it operates, according to Beristain. For example, it is the top producer globally of iron ore and holds the single largest mine, Carajas, which has a current production of over 100 million tons per year and reserves that should last more than 50 years. CVRDs recent acquisition of Inco could lead it to a number-one position in nickel as well, he says.
Embraer faces challenges such as the financial situation of airlines worldwide, the dependence on the Brazilian air force in the defense segment and a failure to make the expected impact in the business-jet segment, according to Daniela Bretthauer, a So Paulo-based analyst with Santander Banespa. On the positive side, the sector where Embraer operates is seeing longer-term improvement, its introduction of the new E-jet family has been successful, and it is becoming a more important player in the business-jet segment after launching three new products in 2006, she says. We believe that important revisions in scope clauses by large US airlines, as well as ongoing consolidation within the US airline industry, could provide further growth opportunities for the company, she says.
CVRD is expected to seek growth in areas other than just iron ore and nickel, such as coal, coking coal and other base metals, says Beristain. The development of current exploration projects into large-scale projects could take them into other Latin American countries, Africa and Asia, and if the Inco acquisition proves successful, we believe CVRD will become even more international. Its outlook is still highly positive as Inco opens a new chapter in CVRDs lifecycle, he adds.
Other Brazilian global companies are looking at further international expansion. Natura recently stated that it plans to boost international revenues from 3% to 10% of its total sales through expansion in markets like the United States, France, the United Kingdom and Russia.
Brazilian companies are benefiting from political stability at home, with president Luiz Incio Lula da Silva starting his second four-year term amidst some hope that he will try to boost economic growth more than in his first period. He is very interested in making the country grow more, Treiger says.

THE QUEST FOR INVESTMENT GRADE

Brazil is getting closer to investment grade from the international credit agencies after gradually improving its debt balance. Michael Hood, chief Latin American economist at Barclays Capital, believes it may happen some time next year.
In early February Fitch Ratings upgraded its outlook on Brazils long-term foreign and local currency sovereign issuer default ratings to positive from stable. The rapid improvement in Brazils external balance sheet, notably its shift in 2006 to being a net public external creditor, raises the likelihood of an upgrade over the next two years, as long as public finances do not deteriorate, Roger Scher, managing director for Fitch Latin American Sovereign Ratings, said in a statement.
Investment grade will result in a boost in foreign investment in Brazil as well as the value of many Brazilian assets. Many funds that hold bonds and stocks are legally bound to invest only in investment-grade countries, so those kinds of investments will come to Brazil once it achieves investment grade, Hood says. But the market has generally priced in the anticipation of investment grade, he points out. Already investorsincluding US billionaire real estate developer Sam Zellare pouring millions into Brazil in anticipation of the transition to investment grade.
Overall, the value of investment grade is more indirect than direct, Hood believes. Im not sure that having that seal of approval gets you much, he says. Whats really helpful is the actual circumstances that justify getting investment grade.
Geraldo Soares of IBRI believes investment grade also will help Brazilian companies internationally. When we eventually reach investment-grade status, I believe that domestic companies will become better global competitors, he says.

Joachim Bamrud