COUNTRY REPORT / THE PHILIPPINES


Shrugging off political uncertainty and a rising currency, the Philippine economy is enjoying steady growth. Plenty of pitfalls remain, however.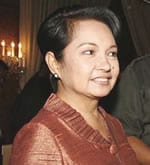 Arroyo: Under pressure

Philippine politics is rarely dull, and 2007 is likely to be no different. While the country has been enjoying increasing economic growth boosted by inflows of remittances from Filipinos abroad and a bullish stock marketboth of which have pushed up the value of the pesoPresident Gloria Macapagal Arroyo has been under pressure once again.
She is no stranger to turmoil, of course: An alleged coup attempt in February 2006 forced her to declare a state of emergency. Her reign has been characterized by demands for her resignation, allegations about electoral fraud and the threat of impeachment by the opposition. Arroyos predecessor Joseph Estradas political career met a premature end in January 2001 when he was ousted by a popular uprising backed by the Catholic Church and the military. The question now is whether President Arroyo is likely to face a similar fate.
Some anticipate that if she loses control of both houses in the congressional elections this May, the opposition will commence impeachment proceedings against her. That is the worst-case scenario, says Ces Tanchoco, bank economist and investor relations officer at Bank of the Philippine Islands (BPI). Tanchoco and other economists are resolutely upbeat that Arroyo will survive the forthcoming elections and remain in power for another three years.
Politics is always a risk in the Philippines, but the political situation is relatively stable, and we expect Arroyo to remain in power until 2010, says Frances Cheung, a Hong Kong-based economist with Standard Chartered Bank. Standard Chartered does anticipate some volatility in money market rates in the lead up to mid-Mays elections, but Cheung says this is likely to dissipate after the elections. For investors, long-term confidence in the Philippines should not be a major concern, she says.
In its December 2006 assessment of the Philippines, Trust Company of the West (TCW), the US subsidiary of Socit Gnrale Asset Management, states that while President Arroyo remains unpopular, political risk seems to have decreased. Arroyo, if nothing else, is a survivor and has the support of the top military ranks. With Arroyo already having survived one impeachment attempt, Jean-Charles Sambor, a vice president of TCW, says that the prospect of the opposition gaining control of the lower house in the forthcoming midterm elections and instigating another impeachment is less likely.
Another potential source of electoral disruption, Arroyos attempt to institute constitutional reforms, also appears to have been put on the back burner, given opposition to it in the upper house, says Sambor. Tanchoco of BPI believes that investors may tolerate political hiccups in the run-up to the elections so long as they can see that the Arroyo administration is getting the economic fundamentals right.
In late February the Philippine central bank, Bangko Sentral ng Pilipinas (BSP), announced measures to curb the rapid appreciation of the peso, which rose 8.3% against the US dollar in 2006. Despite a strong peso having a minimal impact on the exports sector, Cheung says the central bank needed to be seen to be doing something to curb its strength, so it introduced trading limits. The restrictions imposedare quite mild, says Cheung, adding that she does not anticipate they will have a negative impact on foreign investors perceptions of the market.
Any negative market reaction is also likely to be countered by the surge in international remittances from Filipinos abroad, which increased 37% year-on-year in December 2006. According to TCW, the increase in remittances is also likely to offset any negative impact from rising oil prices on the current account and will contribute to resilient private consumption, which should see the Philippine economy grow by 5% in 2007. Against a scenario of slowing exports, domestic consumption will remain the key lever and will help smooth the GDP growth trend, notes Sambor. Electronics exports are expected to decelerate due to slowing US demand.
The governments Medium-Term Philippine Development Plan predicts economic growth rates of 7% to 8% by 2010; however, most economists believe these projections are overly optimistic. The Philippines has achieved growth rates of 6.8% but not on a sustainable basis, says Tanchoco, adding that on a real adjusted population-growth basis, the Philippine economy is growing at a rate of only 3.5%, which is not enough to trim high poverty rates. The potential for growth of 7% to 8% is there, but it is a matter of the government being able to enact sustainable macro and micro reforms, she adds.
The Philippine economy has long relied on the strength of its electronics exports sector. Despite increasing competition from neighboring southeast Asian countries, Sambor believes electronics firms are unlikely to diversify away from the Philippines in the short-term. However, the challenge, he says, is to add value beyond assembly of electronics products. The government recognizes that other countries have passed the Philippines by in terms of labor costs, says Tanchoco. Wage rates in the Philippines are not as competitive as those in China and India, for example, but if the focus is more on value-added services that are not as labor intensive, the Philippines could gain a competitive advantage.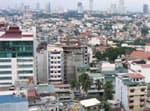 Business as usual: The Philippine economy is riding out the current political uncertainty

In recent years the Philippines has enjoyed some success in the back-office business-process outsourcing space. Multinational corporations are relocating their back offices to the Philippines, which has helped boost the construction and real estate sectors, notes Cheung. She says the Philippines is now the preferred location for outsourcing back-office functions, such as call centers. This has helped contribute to higher foreign direct investment inflows, which increased substantially in 2006 from historically low levels. In 2006 FDI inflows into the Philippines were $1.9 billion, up from $1.2 billion in 2005. TCW anticipates that this year FDI will increase to $2.2 billion. I expect FDI to pick up in the years to come, but it will be a gradual process, says Sambor.
Private sector investment and FDI are also likely to receive a boost on the back of increased social and infrastructure spending by the Arroyo government. Thirty percent of additional revenues generated by VAT reforms is slated to be spent on social services and much-needed improvements in transportation, energy and irrigation infrastructure. This follows a period of constrained spending by the government as congress failed to approve the 2006 budget. The governments hands were tied as they were operating on a budget based on 2005 levels, Tanchoco says. However, congress has passed the 2007 budget, and revenues are now coming on stream.
The more recent trend of fiscal restraint helped rein in the public sector deficit, which fell from a peak of 5.2% in 2003 to an estimated 0.9% to 1% in 2006. Reductions in the fiscal deficit have been driven by higher taxes but also by a significant slowdown in government expenditure, says Sambor. Given that government spending fell short of expectations, economists assert that Arroyos focus now, particularly in the run-up to the elections, should be on supporting further improvements in infrastructure spending.
Concerns remain regarding the countrys employment growth and high poverty rates. Poverty rates have fallen to 30% from previous levels around 45%, but that is still high compared with other countries in the region. The governments Development Policy Support Program is geared toward introducing reforms, including anti-corruption initiatives and enhanced tax collection, to create sustainable economic growth, reduce poverty and create jobs.
However, economists maintain that poverty is unlikely to be alleviated in the short term, and despite concerted efforts to reduce the fiscal deficit, one of the biggest challenges the government faces is on the public debt side, says Sambor of TCW: The Philippines public debt rating is still quite high, especially when compared with Indonesia. Some measures were introduced last year to improve external debt ratios, but they are at the early stages. And although economists are largely bullish about the Philippine economy in the run-up to the midterm elections, Sambor sounds a note of caution: Should the election cycle turn sour, President Arroyo could face political challenges, which could impact GDP growth.

Anita Hawser