NEWSMAKERS: SLOVAKIA
By Justin Keay
Emerging Europe doesn't generate much in the way of good news these days, owing to the region's proximity to and dependence on the eurozone.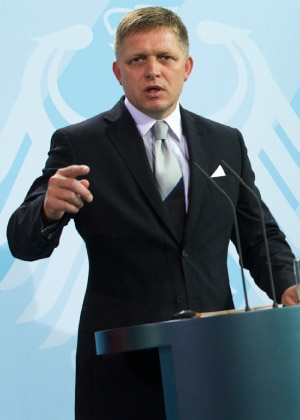 Fico has learned from past mistakes
Photo Credits: FICO: REUTERS/THOMAS PETER
Even Poland—the region's biggest economy—is expected to see growth slow from 4.5% in 2011 to 2.2% in 2013. Yet one eurozone country continues to defy expectations that its dependence on manufacturing exports—specifically, auto exports—will prove its undoing.
Slovakia's economy was expected to grow by 2.7% in 2012, despite the fact that exports slowed dramatically in the third quarter. The left-of-center Social Democracy government of prime minister Robert Fico, the first single-party administration in the country's history, which took power in April 2012, has so far shored up investor confidence. "It has swiftly enacted fiscal consolidation measures in an effort to meet the EU deficit target next year, even though government debt remains manageable at 45% of GDP," concluded the EBRD in its latest Regional Economic Prospects report.
Since his victory, Fico has managed to reassure doubters who pointed to his previous spell as premier between 2006 to 2010, when his government was erratic and populist. He has appointed technocrats to key posts and seems committed to EU and NATO integration and Slovakia's development as a pluralist state.
"Fico is evolving into a mature and predictable politician, which may prove that he has learned from his past mistakes and those of other leaders," was the recent conclusion of Pavol Demes, a senior fellow with the German Marshall Fund of the US, in Bratislava.
Fico still faces some tough challenges. The first is alleviating high unemployment. Although nationally unemployment stands at 13.7%, this conceals vast regional differences. Unemployment levels in the east, near the border with Ukraine, are well over 20%.
Corruption is another issue. Slovakia tied with Croatia in 62nd place out of 174 in Transparency International's latest Corruption Perceptions Index, which noted concerns over state contract allocation.
Can Slovakia continue to thrive, despite the expectation that its exports will be hit by slowing demand? All eyes will be on Fico as he charts his country through the choppy global waters of 2013.