NEWSMAKERS: BRAZIL
By Antonio Guerrero
Graças Foster, 58, was appointed CEO of Brazil's Petrobras state-controlled oil company in February, becoming the first woman ever to head one of the world's top oil operations.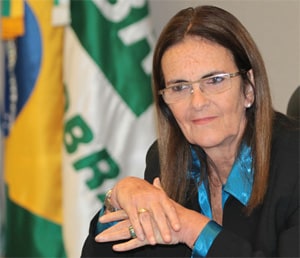 Foster was nominated by president Rousseff
Markets were relieved that Brazilian president Dilma Rousseff, who has vowed to appoint more women to key government posts, chose an oil sector professional, and not a political crony, to head the company. The move set off a rally in Petrobras stock prices.
Foster, a chemical engineer who joined Rio de Janeiro–based Petrobras in 1978 as an intern, has headed the company's natural gas and energy unit since 2007. As CEO, she will be responsible for overseeing a $225 billion investment program to develop the country's pre-salt deepwater oil fields, which are the biggest oil find in the Americas in more than three decades.
Once developed, the new offshore fields will make Brazil one of the world's largest oil producers, as the country is poised to more than double its output by 2020. Production is expected to rise from 2.61 million barrels per day (bpd) last October, to 4 million bpd by 2015. Between now and then, the company plans to borrow some $18 billion each year, mainly overseas.
Petrobras, founded in 1953, is already the world's fifth-largest oil producer by market value and reported $120 billion in revenues last year. The Brazilian government holds 51% of voting shares in the oil giant, which is Latin America's largest company by market capitalization and revenue.
The Petrobras board approved Foster's appointment a week after the company sold a record $7 billion in bonds on international markets, marking the largest corporate bond offering in the country's history. Fixed-income investors were encouraged by Foster's credentials, and she is expected to successfully execute the investment-grade-rated company's ambitious expansion program. Market sources say investor demand for the latest bond issue was as high as $25 billion.
Foster succeeds Jose Sergio Gabrielli, who had headed the company since 2005. Gabrielli stepped down to pursue a political career and is expected to enter the gubernatorial race for his home state of Bahia in northeastern Brazil.