India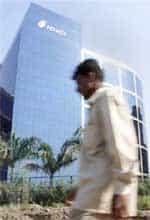 ICICI Bank: One of the Indian banks repurchasing bonds.
Indian banks and corporate bond issuers in international markets are taking advantage of the widening credit spreads and tightening liquidity conditions in global bond markets by seeking to repurchase their outstanding issues at these wider spreads. The credit spreads for Indian issuers in the US bond market have widened to between 350 basis points and 450 basis points over US treasuries. ICICI Bank, India's second-largest bank, has already commenced by repurchasing its bonds with a five-year duration. The repurchasing of bonds has the added benefit of providing liquidity to investors in these issues, stabilizing prices and shoring up investor confidence. Other large Indian banks such as Bank of Baroda are also expected to start repurchasing their bonds.
As Indian banks invest in their own paper overseas, corporate India continues with the trend of concluding big-ticket investment deals at home. Vedanta Resources, the London Stock Exchange-listed mining and metals conglomerate, has announced a $5 billion project in eastern India, where it will build an aluminum smelter with an annual capacity of 650,000 tons and a power plant with a capacity to generate 3,000 megawatts. The company expects to complete the project—one of the largest in the state of West Bengal—in three years.
The International Finance Corporation has announced that it will raise the allocation to its corpus to invest in India by $1 billion for the 2008-2009 financial year. IFC has been investing in India across sectors like infrastructure, chemicals and health. The IFC has identified the Indian chemicals sector as having the highest growth potential after infrastructure. It expects the size of the Indian chemicals industry to double from $30 billion in 2005 to $60 billion in 2010. IFC's India investment corpus now stands at $2.5 billion.
Aaron Chaze