NEWSMAKERS: ETHIOPIA
By Valentina Pasquali
Plagued by corruption and emerging from three decades of stable but authoritarian government, Ethiopia is undergoing its first peaceful transfer of power after the death, in August, of longtime prime minister Meles Zenawi.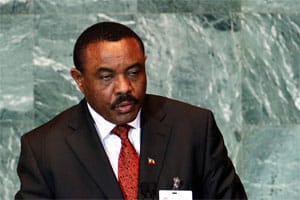 Hailemariam: An unassuming president who could transform Ethiopia
Leading the country during this turning point is Hailemariam Desalegn, an ally of the late PM and Ethiopia's deputy PM and foreign minister since 2010.
According to Charles Stith, professor at Boston University and former Tanzanian ambassador to the United States, Hailemariam (referred to by his first name per Ethiopian tradition) faces two challenges: "consolidate power" and "lay the groundwork for more transparent governance." If he manages to accomplish them, says Stith, "his will be a transformational presidency that will go a long way toward fashioning Ethiopia into a truly democratic and modern state."
Hailemariam hails from the Welaita, a tribe from the Southern Nations, Nationalities and People's Region, of which he has been president. He studied engineering in Ethiopia and Finland and joined the ruling Ethiopian Peoples' Revolutionary Democratic Front in 1999.
"He is a good choice to replace Meles," says David Shinn, professor at George Washington University and former US ambassador to Ethiopia. "He is unassuming, personable and essentially a technocrat." Hailemariam's problem is that he lacks a strong political base. "People around him will have more influence on him than they had on Meles," predicts Shinn.
Hailemariam inherits an economy expanding at an annual rate of 7.5% to 8% for the past several years. But he will have to tackle rising inflation, high unemployment and widespread corruption. He is expected to remain prime minister through 2015, until the next scheduled elections.