MILESTONES: KYRGYZSTAN
By Kim Iskyan
Late October's landslide victory of incumbent prime minister Almazbek Atambayev as the new president of Kyrgyzstan may bring a modicum of stability to the country's tumultuous domestic political environment.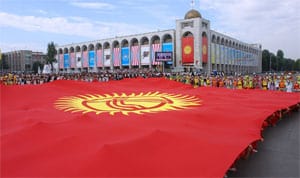 Atambayev may favor Eastern alliances
But while there is a glimmer of hope, the path toward stability—which would bring relief to the gold-mining sector, the primary focus of foreign investment—will be rocky.
For about a decade and a half after the end of the Soviet Union—the first time Kyrgyzstan existed as an independent country—the landlocked nation was heralded as an island of stability in an otherwise volatile region. But Kyrgyzstan reverted to the regional mean with the overthrow of its first president, Askar Akayev, in 2005. The next president, Kurmanbek Bakiyev, was overthrown in April 2010 in a popular uprising. The ethnic rioting that followed resulted in hundreds of deaths. Interim president Roza Otunbayeva has kept the rudder steady, and Atambayev's strong showing—albeit in a disputed election—suggests he may have broad support.
Investment from Russia will likely be favored, potentially at the expense of Western interests. One of Atambayev's first acts as president was to issue notice that he would close the US military base outside of the country's capital—Bishkek—in 2014, when the current contract expires. The base, which is a critical link in the supply chain of US military operations in Afghanistan, is a key source of revenue for the Kyrgyz economy. In another sign of a shift toward Russia, Atambayev has pledged to enter Kyrgyzstan into the Russia-Kazakhstan-Belarus customs union and to lobby Moscow for subsidized loans and reduced fuel tariffs.
Working more closely with regional trading partners may help efforts to improve the investment environment in Kyrgyzstan, in part by bolstering domestic and regional security. A number of foreign mining projects have been the subject of attacks by local mobs in recent months—which has further affected the country's attractiveness to foreign investment.
But real progress will be possible only once Atambayev is able to address the widening divide between the northern and southern regions of the country, and the continued underlying ethnic tension that threatens to roll back the modest progress toward stability made in recent months.