Russia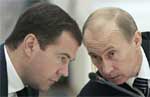 Russia's president-elect Dmitry Medvedev with his mentor, Vladimir Putin.
As expected, Dmitry Medvedev won the Russian presidential elections on March 2, with 70% of the vote. Medvedev was a shoo-in by dint of enjoying the explicit support of his mentor, Vladimir Putin, who remains hugely popular with the electorate but was constitutionally barred from running for a third term. All signs point to continuity in policy across the board, as Putin will very likely become prime minister after Medvedev is sworn in as president in early May. Putin is expected to be the power behind the throne in the Kremlin throughout Medvedev's presidency. An orderly transfer of power and continued political stability bode well for continued economic growth and increased investment in Russia in the medium term, and the election—even though the result was never in doubt—was greeted with a sigh of relief by investors.
In a sign of the importance of Russia's relationship with Germany, the first meeting of Russia's president-elect was with German chancellor Angela Merkel, who forecast that Medvedev's election would not lead to a thawing in the country's difficult relations with the West. Soon thereafter the annual US State Department assessment of human rights in Russia—which was predictably negative, as usual—was greeted by the Russian Foreign Ministry with bitter claims of double standards, further underscoring the deterioration in Russia's relationship with the West.
In early March Gazprom and Ukraine resolved another gas supply dispute that threatened supplies to Europe. The temporary halving of gas shipments to Ukraine did nothing to improve Gazprom's reputation for reliability as an energy supplier.
Barclays became the latest Western banking power to make a move into the fast-growing Russian market, agreeing to buy mid-tier Expobank for $745 million. Days later HSBC named a new CEO for its Russian operations and said that it would invest $200 million to build a retail network. Both banks have a long way to go to catch up with the likes of Raiffeisen International and Société Générale, among others, which have been building a presence in Russia for years.
Kim Iskyan