NEWSMAKERS: KENYA
By Dan Keeler
Nervousness about Kenya's March 2013 general election is prompting international investors to put their investment plans on hold, says Musalia Mudavadi, one of the leading candidates in the presidential race.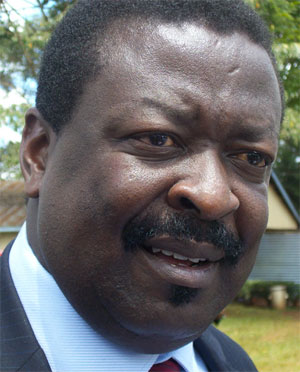 Mudavadi: Kenya's growth potential is substantial
"Some investors are holding off until after the elections, partly because the attention levels to critically discuss new investment propositions may be limited … and partly because they want to ensure the process will be peaceful," says Mudavadi, who is currently the country's deputy prime minister.
Violence exploded in the wake Kenya's last general election in 2007, leaving an estimated 1,500 people dead across the country. Some are concerned that the ethnic tensions that fueled the violence may reemerge in the run-up to the 2013 poll, but Mudavadi believes the fact that the country has a new constitution and is better prepared to deal with any nascent tension means a repeat of the deadly riots is unlikely. "I do not expect the ethnic tension around the election to reach the level [of the 2007] election," he asserts, although he does admit there has already been some small-scale "conflict between pastoralists and agriculturalists on the use of land." Mudavadi expects investor interest to recover strongly in the wake of the election. "If we conduct our elections fairly and peacefully—and we have no option but to go along that path—then I believe the recovery and the growth potential is very substantial," he adds.
Kenya is still trying to recover from a number of other internal and external shocks. Economic growth has been crimped by a recent drought that affected both food and energy production, and the country is still embroiled in the aftermath of its October 2011 military incursion into neighboring Somalia, which has also taken a toll on the government's budget. Mudavadi is optimistic that Kenya's efforts to help stabilize Somalia will pay off in the long run, but in the short term, he says, the cost has strained Kenya's resources. "It was really in our interests to bring in a more stable regime in Somalia," he notes, "but we would like to see more involvement from the international community in order to achieve closure as soon as possible. We don't want to be there permanently."
Despite the challenges Kenya has faced, it is still expecting to post GDP growth of over 5% this year, with the IMF forecasting in its latest World Economic Outlook that the country will see growth swell to over 5.5% next year and almost 6.4% in 2014.