INDIA/UNITED STATES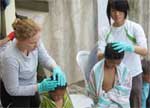 Global Finance's sponsored charity, Amrit Davaa, delousing children at Manjushree orphanage.
In early June Global Finance's partner charity Amrit Davaa embarked on its second mission to Tawang, a small town in a remote corner of Northeastern India, to help the Manjushree orphanage deliver sustainable healthcare to the local community. Aiming to build on the success of the first mission in November 2007, which was co-funded by Global Finance, Amrit Davaa's team of doctors and support workers spent a week at the orphanage installing medical equipment and supplies in a specially constructed clinic. The doctors—with the help of local medical professionals who have committed to working at the clinic voluntarily—provided treatment to many local people and the staff and children at the orphanage.
Much of the work carried out during Amrit Davaa's first mission to the orphanage has borne fruit. The children and staff are already showing considerably improved health and a much greater awareness of the steps necessary to prevent the spread of disease and to ensure a healthier lifestyle. Building on the success of November's mission, Amrit Davaa's team installed water filtration systems near the kitchens and in the children's bathrooms and set up a hot-water shower, which should make it much easier for the children to keep clean, particularly during the long, cold Himalayan winters. Amrit Davaa's founder, Natalie Nevins, and her team also planted a variety of vegetables that will help the staff at Manjushree improve the quality and balance of the children's diets as well as reduce their reliance on local farmers for fresh produce.
After delousing all the children, the charity also provided fresh bedding so that each child now has two sets of sheets—essential if the children are to maintain a healthy sleeping environment.
As Amrit Davaa works to provide sustainable healthcare to underprivileged communities around the world, Global Finance will continue to support its efforts, raising awareness and support for the fight against hunger, disease and deprivation. For more information on Amrit Davaa's work and to make a donation to support this worthy cause, visit www.amritdavaaworld.org
Dan Keeler