NEWSMAKERS | PAKISTAN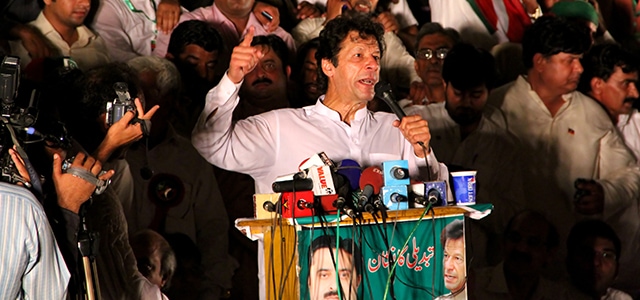 ---
After an eventful career as an international cricket star, Imran Khan Niazi embraced politics in Pakistan 17 years ago, an environment dominated by religious and fervent groups. Gaining prominence when his party, Pakistan Tehreek-e-Insaaf (PTI), captured 7.7 million votes in last May's elections to become the third-largest faction in parliament, Khan has been in the spotlight more recently for organizing sit-ins in Islamabad to campaign for the dismissal of prime minister Nawaz Sharif, whom he accuses of of rigging the presidential election last June.
Beginning August 15, Khan and popular cleric and head of the Pakistan Awami Tehreek (PAT) party, Tahir-ul-Qadri, rallied thousands to converge on the Red Zone in Islamabad—a security zone in front of the parliament. Oxford-educated Khan has captured the imagination of Pakistani youth with the sit-ins and has said he is willing to approach the supreme court seeking Sharif's dismissal.
Facing charges of electoral malpractices for the second time, Sharif approached the armed forces chief of staff Raheel Sharif to mediate a resolution with protestors—which likely will signal increased power for the military establishment in Pakistan. With a comfortable majority in the National Assembly (parliament), PM Sharif also garnered the support of other opposition parties and thwarted Khan's moves to unseat him via political channels: The parliament declared his campaign to bring down Sharif unconstitutional.
But Khan and his cohorts have been feeding people's disenchantment against two mainline parties, Sharif's Pakistan Muslim League (PML-N) and the Pakistan Peoples' Party, and, it appears, working with the military on a backroom deal to increase the army's power. Khan has also criticized the PM for providing an inadequate response to such disparate events as severe floods, Islamist insurgency, economic upheavals and acute power shortages.
In another twist, Qadri and his PAT party brought murder charges against Sharif and a number of his ministers, aides and police officers in connection with the death of 14 protesters during the sit-ins.
The political upheaval in Islamabad has pushed Chinese president Xi Jinping to postpone his scheduled visit to Pakistan in September, although Khan supporters have suggested that the postponement was a ploy by the Sharif government to discredit them.
As the recent events put Islamabad on a political precipice, round one of the battle seems to have gone to Imran Khan.