NEWSMAKERS: KAZAKHSTAN
By Kim Iskyan
Talk of who might replace Kazakhstan's president Nursultan Nazarbayev—who has ruled the oil-rich Central Asian country since 1989—has long been taboo in the country's political circles.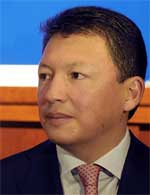 With Nazarbayev's blessing
Succession uncertainty has been the bane of foreign investors, particularly in the oil sector, who worry that a new face could lead to unfavorable policies.
When the German media reported in mid-July that the 71-year-old Nazarbayev was in a Hamburg hospital for an unspecified ailment, the elephant in the room—presidential succession—became too big to ignore. Days later, a trusted presidential adviser commented in an interview with Russian newspaper Kommersant that if Nazarbayev were to leave office, his son-in-law Timur Kulibayev would be the man to carry the torch.
In the cloudy world of Kazakhstani politics, the statement was almost tantamount to an official endorsement. And in the absence of any dissent—Nazarbayev won 95.6% of the vote in recent presidential elections, and there are no opposition members in parliament—getting the nod from the boss is the only prerequisite.
The news wasn't a big surprise, as the 44-year-old Kulibayev had long been rumored to be at the front of the line. A key player in the oil and gas industry since the mid 1990s, Kulibayev was able to put together a portfolio of energy assets that, according to Forbes magazine, has made him the country's third-richest person—worth $1.3 billion.
In 2006, Kulibayev was the driving force behind the creation of sovereign wealth fund Samruk-Kazyna, whose value has exploded to $80 billion and which dominates large swathes of the economy. Kulibayev was tapped to head it earlier this year. He also chairs a number of large state firms, including energy giant KazMunaiGas and uranium miner Kazatomprom.
Perhaps most important, since he's married to the second daughter of Nazarbayev—the president has no sons—placing Kulibayev on deck would ensure that the presidency stays in the family.
Not surprisingly, Kulibayev dismissed the Kommersant interview, claiming he had no interest in politics. And Nazarbayev has given no indication that he intends to step aside anytime soon. But for foreign investors weary of the convoluted machinations of Kazakhstani politics, a bit of clarity is a good thing.