MILESTONES: IMF
By Luca Ventura
"Temporary capital controls might prove useful," Christine Lagarde said to the audience gathered at the Malaysian Economic Association in Kuala Lumpur in November.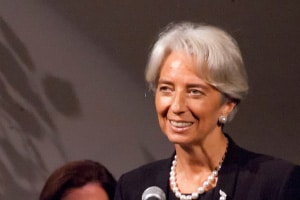 Lagarde at the IMF takes a marked departure on cross-border capital flows
Photo Credits : LAGARDE: ALBERT H. TEICH / SHUTTERSTOCK.COM
The International Monetary Fund director's remarks heralded an historic shift in the institution's approach to cross-border flows of money, overturning decades of support for unrestricted capital account liberalization and acknowledging the perils of boom-bust crisis caused by volatile inflows and outflows of capital.
Lagarde's choice of venue was not accidental. In the midst of the Asian financial meltdown of the late 1990s, Malaysia imposed measures to tame capital movements, a decision that, in spite of the IMF's opposition, was subsequently adopted by a large number of emerging markets.
"Malaysia was ahead of the curve in this area," Lagarde said at the meeting. Her concession, however, did not come without strings attached. In a staff paper released shortly after her speech, the IMF reiterated that "capital flows carry risks, which can be magnified by gaps in countries' financial and institutional infrastructure." But it also warned that capital control measures "can complement, rather than substitute for, appropriate monetary, exchange rate, foreign reserve management and prudential policies."
Not all IMF officials welcomed such a timid approach. Paulo Nogueira Batista, who represents a group of 10 countries in Latin America and Asia on the fund's board, argued in an email statement after the study was released: "The IMF has barely explored the effects of advanced countries' monetary, financial and other policies on capital flows. The extent of the damage to recipient countries has not been sufficiently recognized."
Kevin Gallagher, professor of international relations at Boston University, agrees: "While this is truly a landmark, the IMF decree does not go far enough, as it allows for a very narrow band of circumstances for the use of capital controls."