Roundup
By Thomas Clouse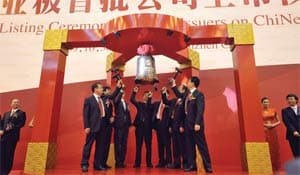 Open market: China's Nasdaq-style GEM opens for business
China's economy will grow by 8.4% this year, according to World Bank estimates, and by 8.7% in 2010. The World Bank projected 2009 growth of 7.2% for China's economy in June but revised its growth estimates based on the success of the country's stimulus package and the expectation of strengthening export markets in coming months. The World Bank cautioned, however, that the country's substantial increase in lending and loose monetary policies would become increasingly difficult to sustain, and medium- term growth would depend on shifting the economy from investment- and industry- focused development to service- and consumption-related growth. China's economy grew by an impressive 8.9% year-on-year in the third quarter.
China's Growth Enterprise Market (GEM) soared on its opening day, October 30, with the stock prices of all 28 listed companies increasing substantially, some by as much as 200%. Modeled on the US-based Nasdaq, GEM was designed to meet the fundraising needs of China's innovative small and medium-size enterprises (SMEs). Such companies often rely on company savings and informal fundraising sources, with bank lending and other stock exchanges in China favoring the country's large stateowned enterprises. Since the debut, stock prices on the GEM, also known as ChiNext, have fluctuated significantly, casting some doubt on the sustainability of the listed companies' high valuations.
State-run Shanghai Media Group (SMG) will split into two units, the company announced in October. One unit, Shanghai Radio & TV (STV), will operate as a non-profit news organization, while the other unit, Shanghai Oriental Media Group, will take charge of non-news-related content production, advertising and distribution. While STV remains the sole shareholder of Shanghai Oriental currently, the SMG's division could eventually allow the advertising unit to seek outside investors. China maintains tight control of its broadcasting industry, but the approval of SMG's restructuring offers promise for further industry reform.