AFRICA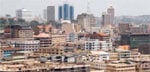 Kampala in Uganda, where African leaders discussed plans for growing investment.
East Africa may benefit from the recent turmoil on global financial markets, as investors seek less risky and higher yielding markets. Speakers at September's third annual National Competitiveness Forum in Uganda argued the crisis provides investors with a disincentive to invest in US, Asian and European markets, making East Africa a relatively safe haven with high returns. Sovereign wealth funds have reportedly shown particular interest in the region. "The correction to Africa's longstanding undervaluation has only just begun," said Razia Khan, African research director for Standard Chartered Bank.
Event attendees, however, warned the region must improve its infrastructure to remain attractive even after the current turmoil subsides. The Council of Ministers of the East African Community proposed creating a regional pool to fund infrastructure projects.
Global market conditions prompted Eskom Holdings, South Africa's electrical utility, to postpone a $500 million bond offering in October. The company, which will invest nearly $39 billion in a five-year expansion drive, now plans to raise more funds at home. It will boost its domestic bond issuance to R15 billion ($1.6 billion) over the next 12 months, from an initial R12 billion. CFO Bongani Nqwababa says Eskom has enough cash on hand to fund its expansion program through next March. Eskom was criticized earlier this year amid an energy crunch that slowed mining output.
Slow voter registration may push the Côte d'Ivoire's presidential elections back from November 30 into next year. The elections have been postponed before, allowing president Laurent Gbagbo to remain in office three years after his term expired. The polling would help restore political order, which remains disrupted after the 2002 civil war.
Antonio Guerrero