NEWSMAKERS: TAIWAN
By Thomas Clouse
Ma Ying-jeou will serve a second term as president of Taiwan after winning 51.6% of the vote in the January election, defeating his closest competitor, Tsai Ing-wen, by less than six percentage points.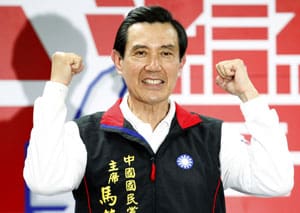 Ma Ying-jeou is triumphant after election win
Ma's political party, the Kuomintang (KMT), also retained its majority in the parliament, despite losing seats to Tsai's Democratic Progressive Party (DPP). The election results offered an endorsement for Ma's stewardship through the financial crisis in 2007-2008 and his efforts to strengthen economic ties between Taiwan and mainland China, which still claims Taiwan as a renegade province.
The economy will be Ma's top priority after Taiwan reported quarterly contractions in growth for the final two quarters of 2011. During his first term, Ma opened direct transportation routes, loosened travel restrictions and signed a free-trade agreement with mainland China. While Ma will look for further agreements with the mainland to boost growth, the strong showing by the opposition party may limit his maneuverability.
Professor Steve Tsang, director of the China Policy Institute at the University of Nottingham, explains: "The mandate Ma and the KMT have received is not one to move closer to unification with China. It is one to maintain a good and mutually beneficial working relationship with China and to steer Taiwan through the economic turbulence expected for 2012."
Ma's position will become especially challenging if Beijing pushes for political agreements, he believes. "Beijing will be well advised to see it for what it is, and not put too much pressure on Ma in the next four years to strike political deals over relations between Taiwan and China. Ma does not have a mandate to open political talks, just to keep cross-strait relations on an even keel."
The strong performance of the opposition party may limit Ma's power, but it has also improved perceptions of the democratic process in Taiwan, bolstered by the high turnout and few reports of corruption or violence. Tsang adds: "What we now have in Taiwan is a clear mandate for another four years for Ma and the KMT—with a reminder that they should not take the electorate for granted. [That's] exactly how it should be in a healthy democracy."