MILESTONES : RUSSIA
By Kim Iskyan
The much-maligned Russian investment environment may actually be on the verge of real improvement — if president Dmitry Medvedev has his way.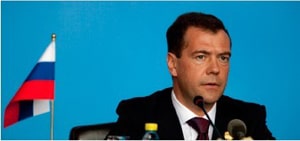 Medvedev promises improvements in the business climate
In late March, during a speech at Magnitogorsk, Medvedev announced a major initiative to reform the country's business climate, listing a dozen measures to be implemented by the summer. The proposed actions include creating a timetable for the privatization of state assets, cutting procurement costs at large state-owned companies, reducing pension taxes on employers; improving transparency for minority investors, enforcing government follow-up on allegations of corruption, and removing government officials from the boards of directors of some state companies. Medvedev also suggested that restrictions on foreign investment in natural resources would be relaxed.
By the standards of most markets, Medvedev's proposals aren't exactly revolutionary. But for Russia, where empty rhetoric about the need to upgrade the business environment has disappointed investors for years, Medvedev's measures were an unusually concrete, and promising, statement of intent. While Medvedev is focused on improving the environment for investment, the effort is also widely viewed as an attempt to convince prime minister Vladimir Putin that he deserves a second term as president. Putin was president for eight years before ushering in his protégé Medvedev in 2008, and Putin will have the primary say over whether he or Medvedev runs in the March 2012 polls. If Medvedev's proposed reforms are implemented—which is possible only with Putin's support—the president's prospects for re-election, as well as the Russian investment climate, would benefit. But if the president's initiative fails, he would be politically weakened.
Meanwhile, in mid-April the broadly successful tandem of the president and prime minister showed the strongest signs yet of fraying, as each separately declared his interest in running for the country's highest office. But voters may be growing tired of the tandem arrangement; both Putin's and Medvedev's popularity ratings have fallen by roughly 10 percentage points since the end of 2010, to 69% and 66% respectively.