MILESTONES: MERCOSUR
By Antonio Guerrero
The Southern Cone Common Market (Mercosur) is celebrating its 20th anniversary this year.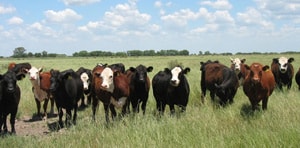 Argentine beef exports could threaten Europe's farmer
The world's third largest trade bloc, after the EU and Nafta, comprises Argentina, Brazil, Paraguay and Uruguay. Yet European farmers are putting a damper on festivities, as a proposed EU-Mercosur trade pact is setting off fireworks of its own.
Farmers throughout Europe, particularly in France and Ireland, warn that trade talks with a bloc that includes Brazil and Argentina, two of the world's largest beef and grain exporters, could spell the end of Europe's farm sector. European farmers, who face high production costs, argue that imports of cheaper South American beef and food would be a death blow.
Irish farmers in March occupied the European Commission's offices in Dublin to protest the proposed trade pact. The European Parliament has asked that agricultural concessions be excluded from the deal and commissioned a report to determine the potential impact of Mercosur farm imports. Copa-Cogeca, a European agricultural lobby group, estimates full EU-Mercsour free trade would cost the EU beef industry some €25 billion in losses.
While beef is at the heart of the protests, there are also concerns over pork, poultry and grain imports, particularly corn. Critics contend there are traceability and food safety considerations, as some Mercosur products do not meet EU standards.
Similar concerns first halted EU-Mercosur trade talks in 2004. Talks were revived last year.
While Europeans are up in arms over the deal, US senator Richard Lugar, a Republican from Indiana, in March called on president Barack Obama to pursue a market access agreement with Mercosur. Lugar feels the pact would help spark job growth in the US.