MILESTONES: MEXICO
By Antonio Guerrero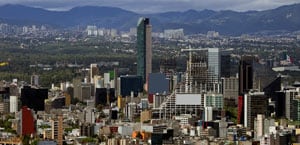 Mexico's financing needs taken care of with century bond
Mexico may have set the stage for a stampede in October when it successfully issued Latin America's first-ever sovereign century bond, a $1 billion, 100-year issue. In fact, investor demand was so strong that it prompted the government to double the bond's total from an original $500 million. Market sources say the deal was still 2.5 times oversubscribed, and analysts predict other Latin American governments will soon follow Mexico's lead.
With the dollar-denominated bonds priced to yield 6.1%, the deal attracted investors seeking higher yields amid falling interest rates in developed markets. The country's investment grade rating helped attract institutional investors. Though the rating was downgraded last year, it maintains a stable outlook. While the government was not immediately strapped for financing, the new issue sets a benchmark for shorter-dated deals.
Officials say the $1 billion century bond, coupled with proceeds from a Japanese yen-denominated samurai bond that was expected to be launched in late October, will cover Mexico's financing needs through 2012. The government's debt profile has improved significantly since the 1994 Tequila crisis, when the nation's external debt was 16.5% of GDP. It is now just 4.8% of GDP.
While the government has had little trouble raising financing, businesses have not been as fortunate. According to the National Banking and Securities Commission, bank credit grew by only 3.9% during the first eight months of the year, to some $165 billion. The figure is below the 10% bank credit expansion predicted by the Mexican Banking Association for full-year 2010.
With the US accounting for 80% of Mexican exports, the US economic slowdown has plunged Mexico into a recession that saw a nearly 7% GDP decline in 2009. Mexico's economy is expected to rebound, with a 4.5% expansion predicted for 2010. So far, results are encouraging, with industrial production up 8.1% year-on-year in August.
Which other Latin American government will bring a century bond to market next is unclear. Some speculate that Brazil, another investment grade-rated sovereign, is a likely candidate.