NEWSMAKERS: MOROCCO
By Michael Shari
Minister until recently in the reigning government's cabinet in Morocco, Salaheddine Mezouar is now the official leader of the opposition party in the country's parliament.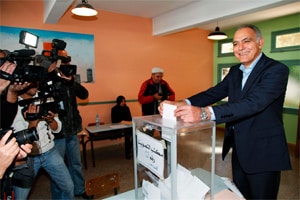 Making his vote count: As opposition leader, Mezouar pledges to keep reforms on track
Mezouar helped drive an era of unprecedented financial reform and opened Morocco to foreign investment, first as minister of industry and commerce from June 2004 to October 2007 and then as minister of economy and finance from October 2007 until his coalition government lost a national election last November. On Mezouar's watch, the North African kingdom's economy doubled during the last decade, growing by 4.5% in 2010 as well as 2011—while the economies of the US and Europe struggled.
But the Arab Spring ushered in a new era of political reform early last year. The result was a new constitution in February and, in November, the first election in which King Mohammed VI was legally required to accept as prime minister the leader of the party that had won the most seats. Prime minister Abdelilah Benkirane, leader of the winning Justice and Development Party, did not keep Mezouar in his new cabinet.
Now the 58-year-old graduate of the Insead business school in France is Morocco's official opposition leader after the National Rally of Independents party—of which he is the leader—lost to Benkirane's party in November's elections.
From the back benches, Mezouar plans to fight to keep on track a reform program that emulates Europe's general approach, just nine miles across the Strait of Gibraltar.
The question is what the government's position on reform will be. For the time being, Mezouar is optimistic. "We have charted a course for Morocco, and we can't change it just like that," Mezouar said in an interview with Global Finance . "If you expect shariah law, you are mistaken. We have always been a moderate and open Islamic country, and I'm confident that the new government will continue in that sense."