MILESTONES: AFRICA
By Alfred Sayila
With member states' foreign exchange reserves reaching a record $112 billion in 12 years, countries in the Common Market for Eastern and Southern Africa (Comesa), Africa's leading trade body, may soon have a cheap new funding source.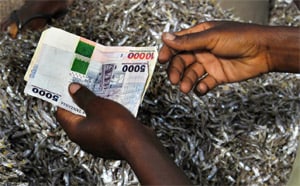 Sindiso Ngwenya, the secretary-general of Comesa, recently urged the board of governors of the Preferential Trade Area (PTA) Bank, the trade and development bank of Eastern and Southern Africa, to work out a mechanism that would facilitate borrowing from these FX reserves to provide trade-finance funding to the 20 members of Comesa and others outside the bloc.
The international reserves that member countries hold could enable PTA Bank to access trade development funds at a cost lower than that commanded by the international financial markets. Ngwenya told a recent meeting of the board of governors that, as a lender to member states, it has every reason and right to borrow investment funds from within. ''It is quite possible that a certain portion of these reserves can be put at the disposal of the bank,'' he declared.
Ngwenya explained that since most of the member states hold these reserves in offshore accounts, which don't earn more than 0.5% interest, the bank could negotiate a better interest rate by borrowing funds from individual states to lend to needy members or agencies outside the economic bloc. This would allow the regional bank to earn more and help to bring down the cost of borrowing within the bloc from outside sources.
With a dramatic upswing in intra-member trade in recent years, currently estimated to be $30 billion annually—up from $3.1 billion in 2000—members have almost reached the limit of intra-bloc trade growth and must seek new markets. The PTA Bank could thus be a strong vehicle for further economic growth by helping bloc members build exports.
Comesa aims to increase its member states' overall GDP from $18 billion in 2011 to approximately $50 billion by the year 2015.