MILESTONERUSSIA
By Udayan Gupta
The Russians are taking a page out of the Dutch East India Company's playbook of 1602.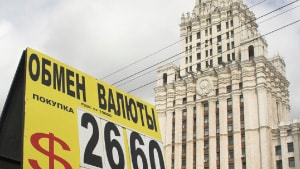 In mid-February Russia recapitalized the Moscow Stock Exchange by selling $1 billion of shares in an IPO of the exchange—giving it a value of $4.2 billion at $1.83 a share, second only to the valuation of the London Stock Exchange. Among the buyers: The European Bank for Reconstruction and Development, China Investment Corporation, Cartesian Capital and BlackRock.
A strong Moscow exchange is expected play a vital role in the privatization of Russian companies, says President Putin. It will encourage local exchange listings and discourage firms from listing abroad, and allow more owners to cash out while keeping the capital within Russia. There is also the hope that the exchange will help finance a host of Russian companies as they seek to expand abroad—a strategy first used by the Dutch East India Company more than 400 years ago.
In March 1602, the Dutch East India Company was formed to protect Dutch trade and expand its global economic interests. It was granted a monopoly by the Dutch government to trade in the waters between the Cape of Good Hope and the Straits of Magellan. Six months later the Dutch East India Company organized itself as a limited-liability company and sold stock to the public. And to trade the stocks it sold, it founded the Amsterdam Bourse, the first modern-day stock exchange. For the Dutch, the Amsterdam Bourse became a critical source of capital as it attempted to become one of the strongest colonial powers, economically.
More than 400 years later, Russia is following suit with the IPO of the Moscow Stock Exchange. The exchange was formed in December 2011 when Micex and RTS, Moscow's two major exchanges, merged. As a result, the Central Bank of Russia ended up with 24.3% of the exchange. The rest of the stock was owned by a number of other banks, including Sberbank, Vnesheconombank, UniCredit and VTB. In 2012, Cartesian Capital, the Russian Direct Investment Fund and BlackRock all acquired stakes in the Moscow exchange.
Athough the exchange has already gone through significant changes, including a revamp of back-office technology and the introduction of stricter listing requirements, "it is still too early," to tell how successful its reform efforts will be, says Harvey Sawikin, a founder and portfolio manager of New York boutique bank Firebird Management.