Brazil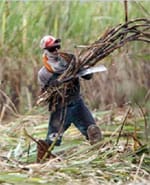 Not so sweet: Predicted demand for Brazil's ethanol is falling.
Just a year after Petrobras, Brazil's state-controlled oil company, predicted Brazil would triple its annual ethanol output to around 70 billion liters by 2020, the market appears to be slumping. Falling global oil prices are making Brazilian ethanol less competitive, while a credit crunch, growing investor caution and an international economic slowdown that could ease demand for fuel are conspiring to dampen the sector's prospects.
In addition to economic conditions, the outlook was dampened by heavy rains in sugar-producing regions, decreasing the amount of sucrose in sugar cane and rendering it less useful for distillation into ethanol.
The government and foreign investors are stepping in to take up the slack, however. BNDES state development bank has granted loans in recent months to several Brazilian ethanol producers to build new mills. ETH Bioenergy, a local biofuels producer, received a $463 million loan to build three mills. Others, however, have succumbed to lower ethanol prices or have put new capital investments on hold. Several international producers are entering the market. Indian Oil, India's state-run oil company, announced plans to acquire a sugar mill and open a refinery in Brazil to produce ethanol. Bharat Petroleum, another Indian refiner, is working with Petrobras to produce ethanol in Brazil. Bunge, a US multinational, and Itochu, a Japanese trading company, joined forces to build a sugar and ethanol mill in Brazil with a $350 million investment.
Meanwhile, the US and Brazil, the world's two largest ethanol producers, expanded their 2007 energy cooperation pact in December to boost ethanol use in the Western hemisphere and Africa. They also agreed to accelerate research to produce new biofuels derived from non-edible cellulose, in response to concerns over the use of food, namely sugar in Brazil and corn in the US, to produce fuel.
Antonio Guerrero