China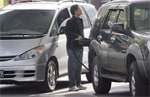 Filling up: China's consumers may face shortages soon.
While the Chinese horoscope attributes such auspicious qualities as intelligence, charisma and compassion to those born in the Year of the Rat, which begins on February 7, economists are warning that it could be an increasingly difficult period for China's overheating economy. They already are questioning the wisdom of the State Council's decision in January to intervene in the market to impose price controls on basic necessities such as oil, natural gas and electricity and to hold down transportation prices, school tuition and medical fees. The most likely outcome, they say, will be empty store shelves.
In our view, 2008 is a year fraught with risk for China's economy, says Carl Weinberg, chief economist at Valhalla, New York-based High Frequency Economics. High on our list of things to worry about is the risk that policy will be applied bluntly beyond the monetary tightening already attempted to address the overheating of demand and incipient inflation, he says.
The insertion of Beijing's former mayor Wang Qishan onto the Politburo, charged with the economic policy portfolio, promises heavier-handed state intervention in the economy, Weinberg says. Interventionist government policies in developing economies always generate distortions and misallocations of resources, he says.
Another factor that may cause a crimp in China's economy this year is the end of the buildup to the Summer Olympics, according to Weinberg. Demand could easily take a hit this fall, when the 20 million Chinese workers involved with the Olympics lose their jobs. Once the hype of the Olympics passes, the Chinese people may realize that the games were not the solution to all of China's problems that they were led to believe they would be.
Inflation is now the biggest concern for China's consumers, and the country's leaders seem likely to pull the plug on free markets before they are willing to risk social unrest. .
Gordon Platt